[Last updated 14th August, 2018]
Following an elimination diet is hard.
But doing so as a vegetarian or vegan is even harder.
The good news is that you can definitely follow the low FODMAP diet if you don't eat animal products.
Here's a round-up of 30 low FODMAP vegetarian and vegan recipes to help you plan your low FODMAP meals.
(Note that not all recipes are vegan.)

Not as light and fluffy as regular pancakes but more like mini slices of banana bread in pancake form.

A fluffy and filling low FODMAP brunch that goes well teamed with low FODMAP fruit.

Chocolate for breakfast? Yes please! This gluten free, dairy free breakfast option will be a hit amongst the chocolate lovers.

A great alternative to your usual mid-week breakfast.

Pumpkin spiced French toast muffins
These are easy to make and freeze well.

Caramelised banana with porridge
The caramelised bananas bring sweetness a lovely sweetness and cinnamon and vanilla give this breakfast a homely feel.
Lunch recipes

A quick and easy salad with tempeh and spices for extra excitement.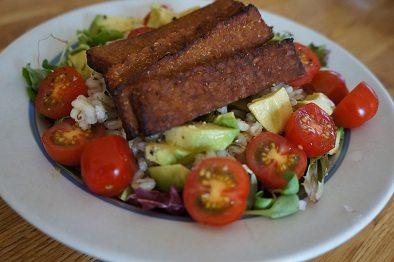 A vegetarian alternative to pork-bacon that is great in salads, on a sandwich or wrap.

Curry quinoa fritters with low FODMAP aioli
You'll love this recipe if you love the taste of curry, herbs, carrot and quinoa.

A simple salad that is suitable for a lunch meal or as a side dish.

Winter roasted vegetable salad
A warm salad perfect to keep your veggie intake high during the cooler months.

Lentil, squash and sweet potato stew
A comforting and easy way to include more vegetables.

Enjoy the flavours of Italy - tomato, mozzarella, basil and oregano in this pizza flavored frittata that also freezes well.
Dinner recipes


Soba noodle bowl with tofu and cilantro


Perfect comfort food for vegans.

A bowl of incredible flavors and textures – spicy, sweet and crunchy. Definitely a dish to try.

Pumpkin, capsicum, sweet potato and spinach pizza
Takes more time and effort but well worth it in the end.

Teriyaki plant protein power bowl
A delicious way to include more plant foods in your diet, inspired by Japanese flavors.
Snack recipes

Tasty, soft and crunchy golden medallions of yum!

Grilled pineapple with yoghurt and rice cakes
A snack to curb your sweet tooth.

Easy coconut-ty treats to make.

Curried carrot and chickpea frittatas
These mini frittatas make a delicious, gut nourishing snack that freeze well too.

These are highly addictive and make a great low FODMAP treat.
Dessert recipes

Roast rhubarb with custard and ginger crumbs
A recipe that's easy enough to whip up on a week night but delicious enough to serve at special occasions.

These are so good, it's hard to stick to one cupcake!

Super refreshing, perfect for the hot weather.

Coconut creamed rice with stewed rhubarb and strawberries
A warm, sweet dessert to enjoy. You can also play around with using other low FODMAP fruit too.

Dark Chocolate and raspberry muffins
Quick and easy muffins to make that combine the tang from raspberries with the richness of chocolate.
For a full recipe book, I recommend Jo Stepaniak's Low FODMAP and Vegan: What To Eat When You Can't Eat Anything
Vegetarian or Vegan Low FODMAP Diet FAQ
This section looks at some commonly asked questions.
Just note that portion size influences the FODMAP load of a food. So while some foods are considered low FODMAP, large portions of that food may actually be high FODMAP.
Please see the FODMAP Friendly app or Monash University FODMAPs app for exact portion sizes.
What protein sources are low FODMAP?
Many staple vegetarian and vegan protein options are high FODMAP.
This includes large amounts of legumes, some nuts and soy products.
Low FODMAP vegetarian and vegan protein options include:
Firm tofu
Tempeh
Quorn mince, no onion
Eggs
Some nuts and seeds
Canned and rinsed chickpeas/garbanzo beans and butter beans (small quantities)
Canned and rinsed lentils (small quantities)
Quinoa
Soy protein milk
Lactose free cow's milk
Lactose free yogurt
Greek yogurt
Hard yellow cheese e.g. cheddar, Colby, Swiss
Cottage cheese
Soy cheese
What protein powders are low FODMAP?
Rice and pea protein are vegan protein powders that are low FODMAP.
Just also check that the protein powder doesn't contain any other high FODMAP ingredients.
Which milk drinks are low FODMAP?
There are many low FODMAP options when it comes to milk.
Nutrition wise, lactose free cow's milk is best.
However, if you can't tolerate cow's milk or choose not to drink cow's milk, soy protein milk is the next best option for nutrition.
There are other suitable dairy free milk options, but be sure to check the label to see whether they have had calcium added to them.
The low FODMAP milk options include:
Lactose free cow's milk
Soy protein milk
Almond milk
Oat milk
Rice milk
Coconut milk
Hemp milk
Macadamia milk
Which yogurts are low FODMAP?
There are dairy and non-dairy/vegan options when it comes to low FODMAP yogurt.
These options include:
Lactose free yogurt
Greek yogurt
Goat's milk yogurt
Coconut yogurt
This post originally appeared on Diet vs Disease as 30 Delicious Low FODMAP Vegetarian And Vegan Recipes Plus Some FAQ.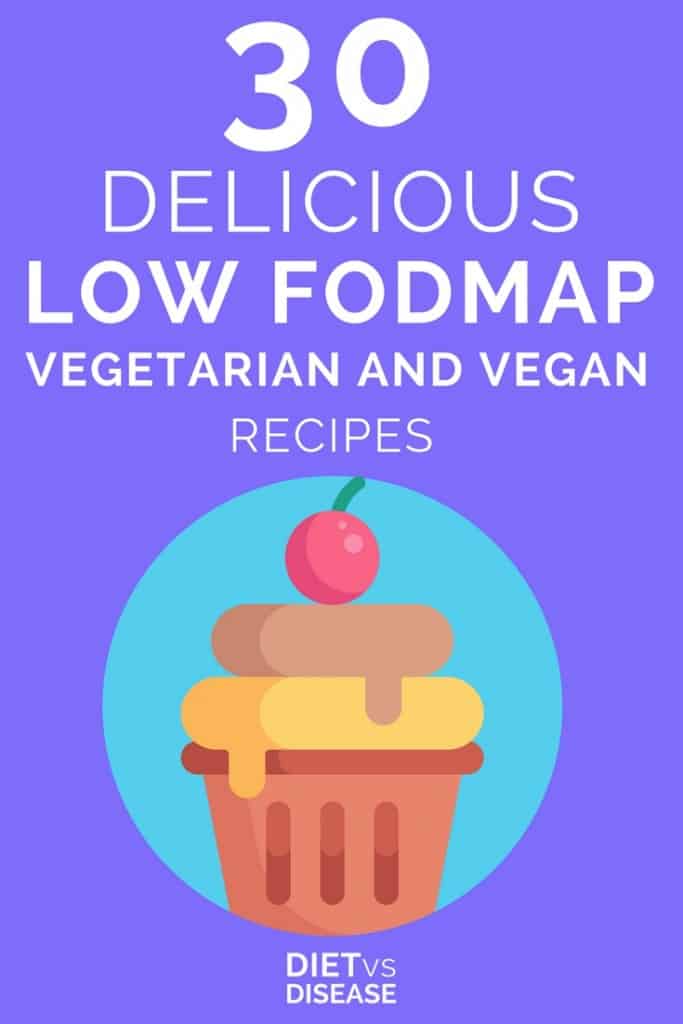 Author's Bio:
Joe Leech is a qualified dietitian who believes that conventional medicine and natural medicine do not have to be mutually exclusive. He draws from the best of both areas when giving nutrition advice.