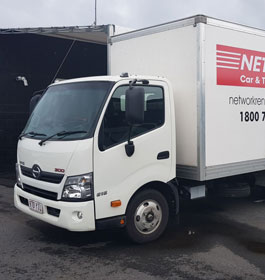 Moving house or property can be extremely stressful. Right from the beginning of the moving process including packing and then shifting it finally to the new place is something that can give you some real pain. However, if you have your moving truck ready outside your home prepared to pick up your stuff from your home, you will be relieved from your stress a bit.
There are several truck rental companies out there that offer trucks of different sizes and capacities on rent. Along with selecting the right truck rental company, you ought to choose the appropriate truck that provides ample space to stuffing your belongings.
So, you need to have the size chart of trucks with you to make sure you can choose the truck according to your need.
1 TONNE TRAY TRUCK
These trucks are usually used for local removal and readily available in the collection of the best company offering furniture removal truck hire in Cairns. For entire house removal in this tray trucks, you need to rent it for at least seven days. However, as because it is much more budget friendly, easy to access and perfect for furniture of any height, it is one of the most preferred trucks for local removals.
3 TONNE TRUCK
This truck can fit up to 13 cubic meters size of furniture easily. Space is enough to fit in a lot of furniture together. This truck is perfect to hire for small moves. If you were living in a studio size room or sharing a two bedroom unit, you will be able to use this truck correctly.
The height of the truck is around 3 meter. Because of its comparatively slick structure, it becomes perfect for interstate removals to bend at the tight corners of the town.
4.5 TO 6 TONNE TRUCK
This truck has 24 cubic meters space inside which makes it a perfect vehicle to hire for medium-sized removal. If you are shifting from your small house or workplace, renting this truck will be just perfect. This truck is just perfect for the places where it becomes tough to park the truck.
10 TONNE TRUCK
It is easy to guess that this truck offers the maximum space for removing stuff of 3-4 bedroom units. It has around 40 cubic meters inside. However, because of its giant size, it does not fit anywhere as per your choice. You can choose this truck while moving to another city.
Things to Consider Before Renting the Moving Truck
Choosing a reliable truck rental for a removal company in Cairns that has already put a lot of trucks on hire for removal purpose.
A company that has a wide range of removal trucks of different sizes in their collection
The vehicles must be in good condition so that those can resist the jerks and bumps of the road.
The rental terms and conditions are transparent.
Check the daily rates and calculate the total cost
Do the trucks have air conditioning facility?
Take a look at the payment method and determine whether they offer a flexible payment option or not.
Does it operate near your location (both pickup and drop off)?
Conclusion
The size chart and the considerations of choosing the right furniture removal truck will help you to determine the truck you will need soon. Determine the date and time before making the final booking for a smooth removal.
Author's Bio:
The author is associated with furniture removal truck hire in Cairns and also runs a truck rental for removal company in Cairns successfully for quite a long time now that contributes to the experience.