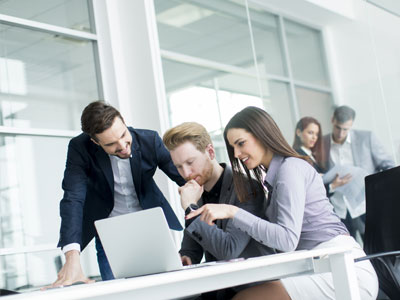 Once employers start the hiring process, they are typically interested in acquiring the most talented people on the block. However, without the consistent implementation of proven hiring strategies, they will likely fail to recruit and retain the top notch individuals they're seeking. If you're looking for ways to make your recruiting process more systematic and successful, note that using some or all of the following strategies may help you.
Utilize Recruitment Services
One of the best ways to increase the likelihood of hiring the right people is utilizing recruitment services. Note that professional recruiters typically have extensive experience in the process of finding the individuals who are the best fit in light of your organization's unique needs, company culture, expectations, preferences, etc. As noted in Forbes, some of the top recruiting agencies in the country include Korn Ferry Futurestep, Brilliant, and Lucas Group.
Implement Background Checks
Another strategy you can deploy to ensure that you find the right employees for your business is the implementation of criminal background check solutions. One type of service that you can obtain from the background check is federal court searches. These searches can uncover crimes like fraud, bank robbery, terrorism, and drug charges. Some background checks can involve the use of National Criminal Database Searches, with these searches including the review of Department of Corrections records, County court records, Health & Human Services, Specially Designated Nationals and Blocked Persons (OFAC), and Excluded Parties List System (GSA).
Select Your Interview Questions Carefully
Another strategy you can deploy to increase your likelihood of hiring the right people is selecting your interview questions carefully. Doing so will ensure that you're asking the types of questions that will help you select the ideal candidate. For example, knowing what the essential functions of a job are will empower you to determine which specific tasks the prospective candidate should know how to do in order to keep your business functioning optimally. Once you know what the essential functions are, you'll want to carefully tailor the interview process to ensure that you're asking questions which help you determine exactly which skills the employee has.
Note that gauging the prospect's skill set is only one piece of the puzzle. Additionally, you need to ask questions that help you gauge things like the employee's impromptu speaking skills, emotional intelligence, level of integrity, and dimension of self-awareness. Also consider the value of having a trusted employee sit in on the interview process with you. Doing so will make the interview process more objective because you'll have another individual to balance out your hidden biases and prejudices with their own unique perspective.
People who are interested in making their organizations as successful as possible should understand that knowing who they are hiring is the key to ensuring that their company remains on the path to optimized productivity and profitability. Use some or all of the strategies outlined above to ensure that you are hiring the right employees for your business.
Author's Bio:
Lizzie Weakley is a freelance writer from Columbus, Ohio. She went to college at The Ohio State University where she studied communications. In her free time, she enjoys the outdoors and long walks in the park with her 3-year-old husky Snowball.