Midcap funds have always been looked upon as a powerful route to make good wealth. They tend to be high on energy and provide far better results than large cap funds. However, there are some challenges too that people have to face if they make up their mind to invest in such funds, and high risk factor is just one of them.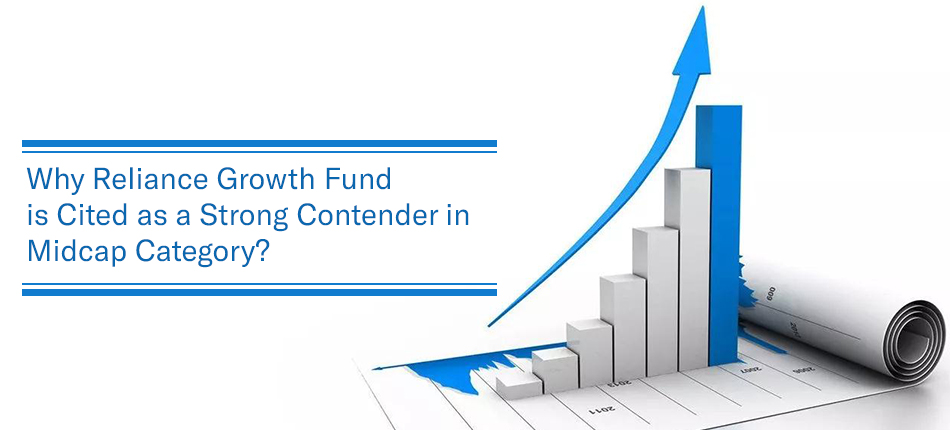 But there are some funds in the midcap category that, by the virtue of fine sense of judgement of their fund managers, keep high risks at bay. Reliance Growth Fund is one such example of a high performing but safer midcap fund that can help you achieve your financial plans. Read the information presented below to get a better understanding of the fund.
An Overview of Midcap Funds
Midcap mutual funds generally invest in stocks of those companies that have crossed the initial setup stage, and are now moving towards further growth. These companies tend to have a market cap in the range of ₹500 crore to ₹10,000 crore, and focus on further control over the market by scaling up their operations in all possible spaces.
Defining Reliance Growth Fund (G)
Since the economic crisis of the early 90's, the Indian citizens have become more responsible regarding their income and savings. With time, demand for sophisticated avenues increased and paved the way for the launch of
Reliance Growth Fund – Regular Plan (G). This plan was introduced at the dusk of the 20th century in October 1995, with an aim to provide a strong solution to the investors to meet their goals and aspirations.
Reliance Growth Fund competes against S&P BSE Mid Cap TRI, its benchmark, and seeks capital building by employing both equity and debt in the portfolio. The fund manages an asset base of ₹6,412 crore, and is currently listed as one of the top five midcap funds to invest in India in terms of wealth held.
Reasons to Invest
Before stepping into the arena of mutual fund investments, it is important for you to get hold of some facts about the fund in which you are looking forward to invest. Here are some of the reasons that make it profitable to invest in Reliance Growth Fund – Regular Plan (G): -
High Growth Prospects
As stated earlier, the portfolio of Reliance Growth Fund comprises mainly of stocks of midcap companies looking forward to flourish in the market. Thus, investing in this fund can be beneficial as it will allow to achieve high growth, thereby opening ways to accomplish your goals.
Decent Returns
Being an equity-oriented midcap mutual fund, earning returns with this fund is not a problem. As per the past records, it has given returns as high as 16.99% in the last five years, running neck to neck with the benchmark and other competitors in the category.
Better Security
One of the best things about midcap funds is their optimised security. They are a much safer option for achieving your goals if you are irritable to high risks, which is otherwise present in plenty in small cap funds. Thus, investing in Reliance Growth Fund (Growth) can function superbly for you in targeting your goals and achieving them speedily.
A Word of Caution
While Reliance Growth Fund – Regular Plan (G) can be a promising choice for your portfolio, there are certain don'ts that you need to follow to extract the best results out of this fund.
Have a Long-term Vision
Mutual fund investing is similar to a cricket match – the longer you stay on the pitch the better are your chances to score well. If you are having an aggressive midcap scheme such as Reliance Growth Fund (Growth) on your cart, then remember to stay invested for long.
Dodge the Exit Load Policy
Besides growth and high returns, dodging the exit load is another reason to plan a long-term investment in Reliance Growth Fund. The fund follows strict policy against any premature exit load, and deducts 1% charge on any redemption made before 365 days.
So, if you have real financial goals to achieve, then plan an investment in Reliance Growth Fund (G).
Midcap mutual funds are one of the best options to start building wealth and achieve goals. They provide ample space to your funds to grow and also keep the security fences tight. The above article explains the various merits of Reliance Growth Fund, besides explaining the sensitive issues that need attention while drawing an investment plan.
Author's Bio:
Dishika has done graduation in Economics, and is currently pursuing a post graduate programme in Finance. She is presently working with MySIPonline, an online investment company that provides top mutual fund solutions. Besides an academic scholar, she's an avid chess player for which she has received numerous accolades.