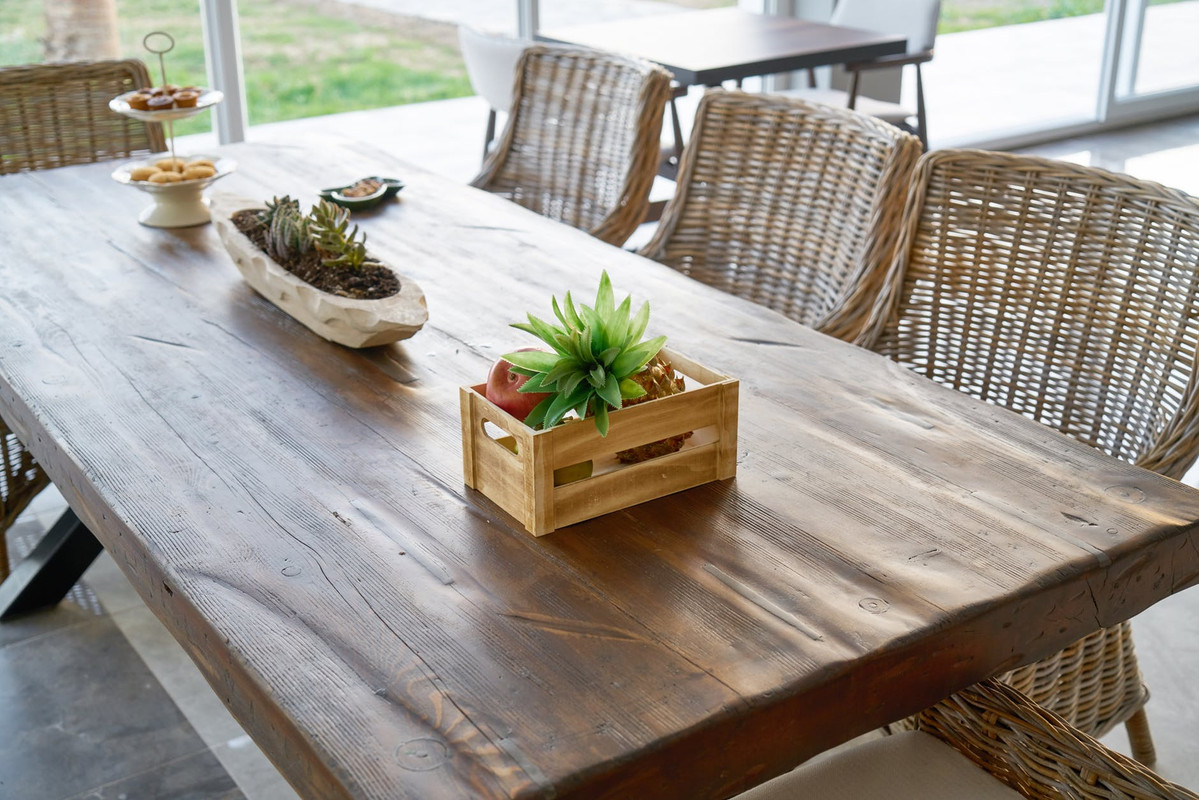 The dining room is a central feature in anyone's home. Do you feel nostalgic when you remember the times your family gathered around the table during each meal? Your sister would be crying, and kicking up a fuss because she did not want to eat anything green or healthy! Your pet would be seen sniffing between your legs, hoping to get a taste of what's being served. And how to forget those birthday feasts?! Disappointments, celebrations, tragedies, solitude -- everything has a place here.
Naturally, it is wise to invest in good quality pieces of furniture; especially when you think about buying something that your family uses every day, like the dining table. It definitely has to be something you would love to see around you. You should feel happy with the pieces of furniture you own. Think about durability, and how well it needs to be made. If you are looking for an exquisite collection of concrete, handcrafted dining tables in different designs, shapes, styles and finishes, then you can go with the team at Cast-In Concrete Design. A concrete top dining table would not only look fabulous, but also harmonize beautifully with all your furnishing and design requirements.
The six things you should look for when choosing a dining table for your home:
Understanding the materials, designs, and shapes help when you are looking to get custom made timber furniture in Sydney. Keep yourself well-informed before you start shopping for one. So, what are the features you should look for when ordering your new table? Here are a few suggestions to explore:
1. Get the perfect size: For the space assigned, it should be the appropriate size, and a comfortable fit. Always measure the area. The table should preferably be compact, but not too small, as it will be counterintuitive. Using furniture that is too small in scale will lead to a room looking smaller than it is. When you go with larger tables, make sure it is not too large. Shouldn't you be able to move around the room, without being obstructed by a massive piece of furniture?! If you are not sure about how many people you would be seating, choose a round table. It usually accommodates about four to eight people at a time.
2. A style to match: Traditional tables are great for a formal dining experience. These units are coated with dark, wood finishes to give it a very rich look. Modern style dining sets are perfect for urban spaces. It is often made from steel, glass or bamboo. The style of the table should match your lifestyle. Country-style tables are suitable for large families, as they are quite big in size. The legs of these tables are elegantly designed and give a beautiful, rustic look to the room.
3. Easy maintenance: The material used should not easily get scratched. It should be easy to clean. Wooden and steel tables are easier to maintain than glass and marble. Avoid glass-topped tables if you have children around the house. Playing catch-and-throw would never be a good idea around glass. Marble tables require regular upkeep, as it is also prone to staining. Once the stain forms, it is very tough to get rid of.
4. Keep Seating in mind: There should be enough seating space for the entire family, and also have some room for guest/s. You would want flexibility in seating when you host dinners for special occasions. Usually, the maker will be able to recommend the number of seats that can be comfortably accommodated. If your extra guest wouldn't mind a tight squeeze, then it shouldn't create much of a hassle!
5. Choice of material: Majority of us take to natural materials like wood, and with good reason. If you are going with wood, then decide to opt for solid wood for that natural, organic feel. Select woods with smooth finish, it helps extend the life of the table and looks very appealing. Steel, or metal, tables are sturdy and durable too. Not only does it add a modern element to the design of your home, but also is weather resistant and strong. The material should be of high quality and should be well-made.
6. Easy to shift: If you are someone who moves frequently, do not buy a heavy table that will be a hindrance to your shifting plans. If you love tables made from heavy wood, go for a smaller table made with the same material. You can ask for a custom-made table that can dismantled from top to bottom. Plywood tables make for a great option for their durability and lightness.
Your dining room table does not have to be an overwhelming affair. Look for what fits your aesthetics, and enhances the overall appeal of your home. These pieces of furniture speak volumes about your home, and personality. So which way are you leaning – a formal set up or a homely or an eclectic one for your dining experience?
Author's Bio:
Caitlyn Bell is an Arts student whose experiences in life make her really tougher than anyone else. She can lend you expert tips on diverse topics ranging from relationship to fashion, making money, health and so on. Her write-ups are a window into her thoughts and knowledge.