Midcap funds have always been on a high rise in India. Their ability to produce attractive returns in a decent timeframe has always put them in the limelight. While most investors choose a conservative style of investing, they never shy away from tossing one or two top performing midcap funds to make their portfolio stronger. If you too are in the search of one such fund that can make your investment journey super smooth, then you must plan an investment in SBI Magnum Midcap Fund. This fund is a complete solution for all your financial aspirations, which will help you in clearing your objectives in no time.
This article enumerates some important points about SBI Magnum Midcap Fund in brief for better understanding of the readers.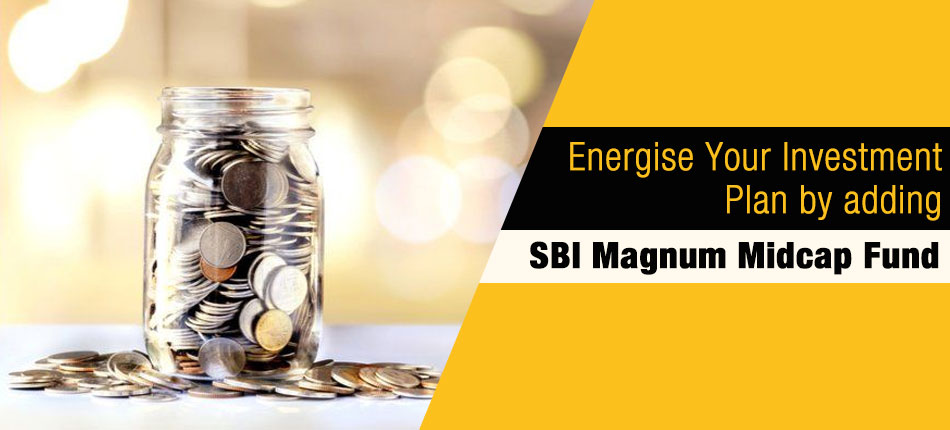 Discussing the Background
SBI Magnum Midcap Fund – Regular Plan (G) is an equity oriented midcap fund that follows an aggressive style of investing. The primary targets of the fund are mid-sized companies that have crossed the preliminary stage of establishment and are now heading towards expansion with full force. The objective of the fund is to achieve capital appreciation by investing in a diverse portfolio, where a good balance between risk and performances can be found. As of recently, the fund was named as one of the best and richest midcap fund in India, having an AUM of ₹3,670 crore on 31st May 2019.
Analysing the Portfolio Construction
As discussed earlier, SBI Midcap Fund is an equity-oriented mutual fund, where more than 95% of the assets are stashed into equity and related instruments. Being a midcap fund, it is heavy on midcap stocks which currently weigh about 79% in the portfolio. Besides, small cap stocks are also added in the ratio of 18.15%, so that the fund may have high performance energy at all times and may not be left redundant in tough market situations.
The Stock Concentration & Valuation
In total, there are 46 stocks that together form the portfolio of SBI Magnum Midcap Fund – Regular Plan (G). The stocks, as discussed above, mainly pertain to the midcap category. Almost 41% of the assets of the fund are invested in the top 10 stocks in the midcap range, which includes stocks from well-established companies such as Cholamandalam Investment & Finance, Godrej Properties, and Ramco Cements.
In order to make the portfolio robust and immune to failure, all the top-performing industries such as Financial, Construction, and Engineering have been included in the portfolio. These are the top 3 sectors included in the portfolio, which together hold 52.47% of the assets of the fund. Hence, as per the data given here, it will be fair to conclude that SBI Magnum Midcap Fund indeed holds a very strong and fertile portfolio, and that the chance of wealth building with this fund are fairly good.
The Past Performance and Growth
If we talk about the past results, SBI Magnum Midcap Fund (G) has been very successful in terms of yielding returns and achieving high scales of capital appreciation. In the last five years alone, the fund was able to pull down 12.05% returns every years. Further, the average score achieved by this fund till date was noted at 14.94%, which is again a very strong number considering the category of the fund and also the corresponding market forces during the said period.
It might also interest you to know that since the last 36 months, SBI Midcap Fund has been on a constant climb. Until the third quarter of 2018, it performed extremely well and achieved growth in high numbers. However, due to turbulent market conditions its growth was slowed down a bit, and the fund is still in the recovery mode. Having said that, it doesn't mean that you shall refrain yourself from buying in this fund. As per the expert forecast, it is suggested that the fund will be in its original form very soon, and investors will be able to enjoy good wealth building in the near future.
The Conclusion
If you want a balanced investment that can fetch you high growth and solid returns, then you must invest in SBI Magnum Midcap Fund (Growth).
Author's Bio:
Dishika is a copywriter and voice over artist. She now devotes most of her time writing articles on mutual funds and other trending topics on finance for the online investment portal, MySIPonline.