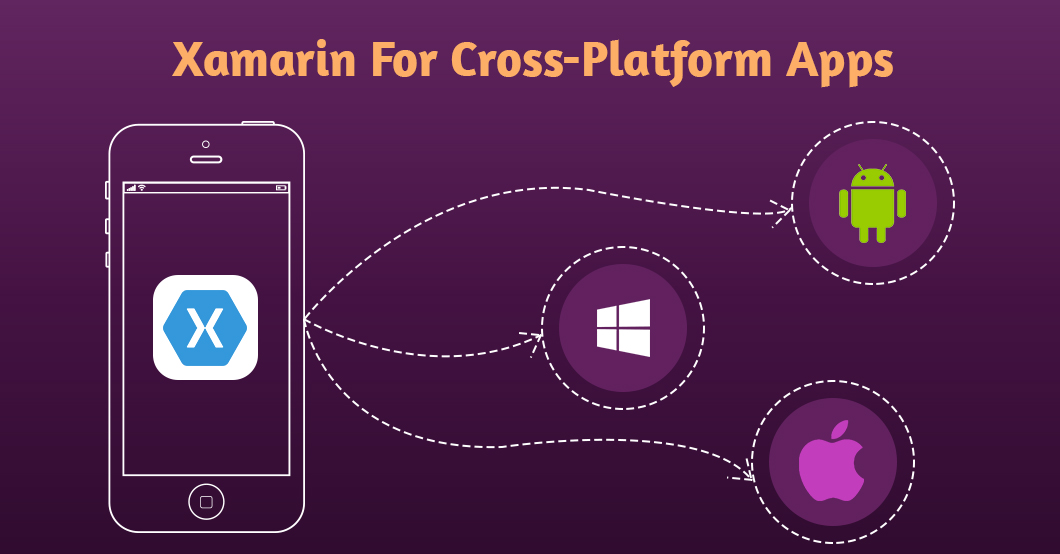 Xamarin is an open-source cross-platform app development framework that builds apps for both the platforms, i.e., Android & iOS. It is backed by Microsoft owned software-based company in San Francisco.
It is a powerful framework that eliminates the hassle and challenges that are inherent in the app development and WORA approaches. Building applications would require detailed information about the idea of the niche, requirement and many more things.
You can approach the Xamarin App Development Company for building your application using this world-class technology.
Let's have a glance at a few reasons for choosing Xamarin as cross-platform app development.
1. Craft Native Apps In Visual Studio
You can always leverage Visual Studio for developing applications that allow you to write code in C# language, and also you can share it between iOS, Android and Windows. This can be done through portable class libraries and proper apps architecture.
2. Best Language
Xamarin allows you to reap its benefits and with that, you can also leverage the strong types-languages, lambdas, Language Integrated Queries, and asynchronous programming. Xamarin supports the Task Parallel Library.
3. Leader
Xamarin has proven to be a leader in cross-platform application development. Building a cross-platform app would be so easy and quick with the help of Xamain that Gartner has mentioned Xamarin to be the leader.
You can always hire a dedicated Xamarin App Developer who could transform your idea into a virtual platform.
4. Access to Native Capabilities
Xamarin has also proven to deliver applications that provide the Native environment to the users. You can create native apps by utilizing the complete power of Xamarin.
5. Faster Development
Xamarin has features that stand the framework out to be different from others. It can write code once and develop the app faster in the native specific environment. Also, it is integrated with the Software Development Kit that delivers a native experience to the users.
6. Best-In-Class
You get all-powerful advantages from Xamarin with its modern and active Integrated Development Environment. It simplifies the application development process and the blend of technologies would quickly deliver quality apps.
7. Xamarin, a part of Microsoft
Microsoft has purchased Xamarin and that is the reason it is the longest surviving technology in the mobile app development industry. You can anytime leverage the Xamarin to build a highly-intuitive app.
8. Native User Interface
It delivers native user interface to the users while offering API coverage, shared codebase, and apps logic. It helps in saving time and resources as it eliminates duplication of efforts.
9. Single Code Development
As the Xamarin is loaded with the Software Development Kit of a particular OS, you can leverage the native controls that are present in different operating systems such as, iOS, Windows and Android. Also, it has to be taken care of that all controls are coded only once. The technology can reuse 80% of code that results in saving a lot of time.
10. Testing
Xamarin has its test cloud that automatically tests Android and iOS applications on numerous devices. Also, it offers continuous integration, test for fragmentation, sends reports, object-based UI testing, and many more things.
Xamarin is an affordable framework that doesn't require investment, and also it can quickly deliver a quality project. You can also read the differences between React Native Vs. Xamarin to understand the basic difference against different technologies.
Conclusion
Xamarin has proven to be an excellent cross-platform app development tool. If you are looking for a one-stop solution that eases your task by developing in C#, maintaining control over UI, and also sharing the same code on any platform then Xamarin is the best fit for you.
Author's Bio:
Harikrishna Kundariya, a marketer, developer, IoT, ChatBot & Blockchain savvy, designer, co-founder, Director of eSparkBiz Mobile App Development Company. His 8+ experience enables him to provide digital solutions to new start-ups based on IoT and ChatBot. A ChatBot Development Company, eSparkbiz has reached greater heights with his immense contribution.