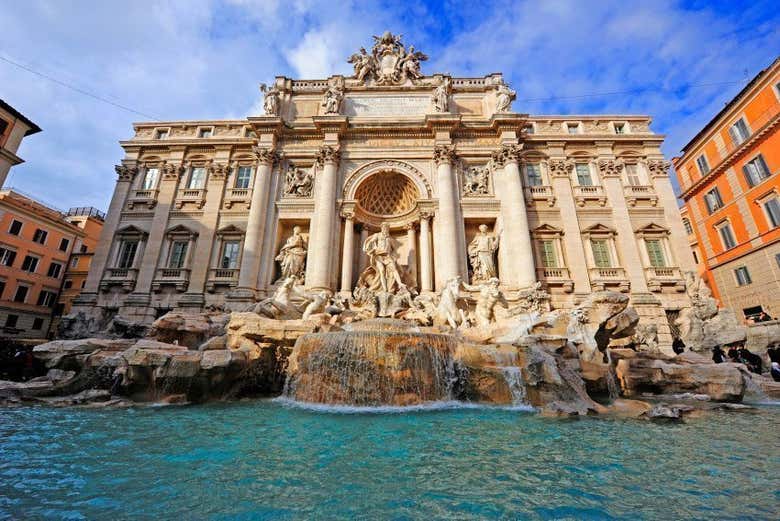 In a small tailor's box, we have put together 10 different types of advice, which could be useful for your trip to the Eternal City. Tour of Rome can result in awesome vacations for you. Don't think so? Let's start!
Move on foot
Whenever you can, go to the places. It is the best way to get to know a city like Rome, where any corner can hide a surprise. Most of the important monuments are within the Aurelian wall , which delimits the center of the city and whose area is quite affordable on foot.
Especially pleasant to stroll are the areas that maintain the medieval and Renaissance layout: around the Piazza Navona , the Pantheon, Campo de 'Fiori , the Jewish quarter and the Trastevere. When you have become familiar with the city a little, spend some time wandering around without a map in these areas, letting yourself be guided by intuition.
Midday meal
If you like to squeeze the time to the fullest, do not lose it at noon with a formal meal in a restaurant. Find one of those places where pizza is served to the taglio (cut pizza, it is charged by weight), and in 15 minutes you will be ready to continue exploring the city.
Roman times
In Rome, everything begins to work half an hour earlier than in a Spanish city, and you also eat a little earlier. By mid-afternoon, many monuments are already closed, and an hour goes by before an hour before Madrid. So it's good to get up early . Try to leave the hotel no later than 8.30.
The following general guidelines about Rome timetables will help you plan your trip better:
- Some of the main monuments (Colosseum, Roman Forum, Baths of Caracalla ...) open around 8.30-9.00, and close early in the afternoon, especially in winter, as the closure is associated with sunset : in winter at 16.30 and in summer at 19.15.
- The public museums , however, also open early (9.00 or something before) but endure more open time (until 19.30-20.00), so they are a good option for late in the day.
Be careful with Sundays and Mondays
Almost all the churches of Rome have worship, and some of them can not be visited during the liturgical celebrations. During the week, the small churches usually have a mass at the beginning of the day and another at the end of the day, so that they hardly interfere with tourism. But on Sundays the Masses are more frequent . Therefore, if possible, plan other types of visits for Sundays.
The History of Rome
Rome is not an ordinary destination. The capital of the old Empire conserves a good part of our cultural roots (in fact, two of the best Roman emperors were born in Hispania ).
It would not hurt, therefore, to review some of Rome's history before the trip. Knowing who were Pompey, Julius Caesar, Augustus, Vespasian ... will give an unsuspected depth to your trip to Rome.
Clothing in the holy places
You have to be careful with the clothing in the holy places, especially in summer. In many do not let enter if you do not leave with long pants, covered shoulders and skirt up to the knee. They are especially strict in San Pedro del Vaticano and Santa María Mayor .
Alternating the visit to churches, ruins and squares
Rome has a rich heritage from different historical eras. The ruins of antiquity allow us to reconstruct with imagination what imperial Rome was like. But after spending three hours in the Roman Forum, seeing broken columns and scattered stones, you will want to enter a building that still stands. In the same way, if in a single day you visit 20 Baroque churches, you will be so "saturated" that they will all seem the same.
Do not want to see everything. Leave things to go back
Rome is an "inexhaustible" city. The Romans usually say that a woman is not enough to know her . If it's your first visit, you do not want to see everything. Take the opportunity to get a general idea of ​​the city, know what is there and what you have yet to see. Visit the places calmly, learning their history and their meaning . Each monument is a world. Do not want to leave running, as soon as you arrive, to see the following. In this way, you will see less things, but you will be able to taste them more.
Beware of scams and pickpockets
Rome is not a dangerous city, but you must go a little prepared. There are always people waiting to take advantage of the great mass of tourists. Two of the hot spots where you should be careful are:
- The metro , especially at peak times, where pickpockets abound. Always keep the wallet safe. Not in the bag, where you can be stolen without realizing it.
- The taxis , especially at airports and Termini. In our article on Rome taxis , we give you some tips on how to avoid scams.
Plan the trip well
It is good that you know in advance what you are going to do every day of your stay in Rome. Then, on this general plan, you can introduce variations on the fly. All the time you spend planning before leaving, will help you get more out of the trip. Once in Rome, time is money: do not spend it on things you could have foreseen before.
Author's Bio:
Angelina is a regular contributor at The Independent.