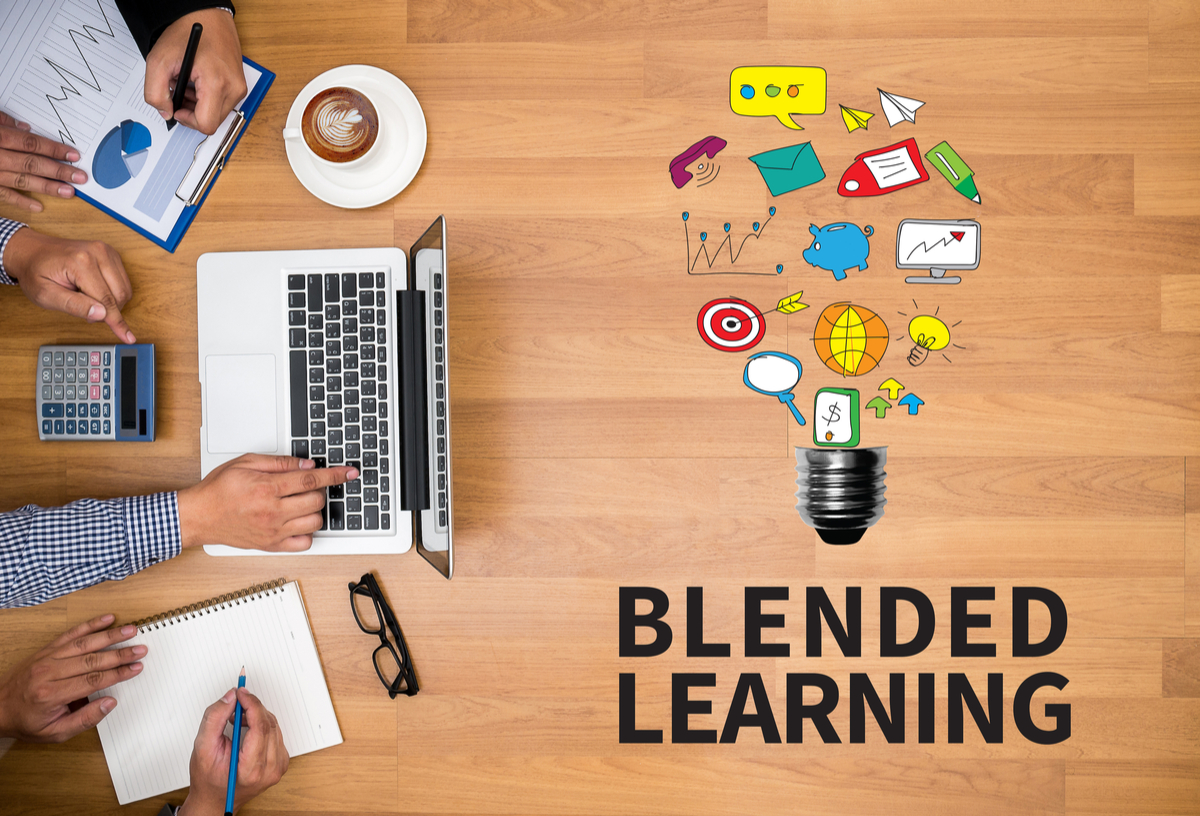 The blended learning technique may have earned a sudden hype in the market, but it isn't really a new concept in the education world. It was during the 1960s when the concept was initially shaped. However, it wasn't until the 1990s that a formal terminology for the concept emerged. Practically, it has been around for around three decades now. To put the concept in simple words, blended learning implementation actually means combining online learning with face-to-face instructions.
The training method, which was earlier used for classroom learning only, is now making its way into the business world. If you have been trying to discover newer and more effective training methods to improve your employees' skills and knowledge and achieve your business objectives, the blended learning method is for you. Also referred to as 'hybrid learning', it utilizes different training strategies - usually ones involving the online factor - to deliver the best results. Naturally, any training method that combines classroom learning, as well as online or computer-based learning, can reap more benefit than a regular training session.
Important Spectrums Associated with Blended Training Strategies
These spectrums are often common in different training methods. The traditional training, however, falls at the far right in each case, whereas online means of training is at far left. Other methods like webinars and classes somewhere fall in the center. The key is to mix and match these spectrums to ensure it works for you.
Schedule
Some training methods require it to be synchronous in nature. For instance, Project Management Certification training may fall under this category. Every individual must participate together at a given period. On the other hand, some training methods are asynchronous, where there's no set time and no requirement for participants to be a part of it together.
The Leader
This spectrum covers training lead. For complex subjects, it is best to go with instructor-led training, so that the trainers can instantly get answers to their questions and an in-depth explanation of concepts in time. On the contrary, there's self-paced training, which is more individual in nature and gives the trainee control over when to learn and when to proceed with the material.
Technology
Technology, such as AI, makes Workforce Readiness Platform worthwhile. However, when technology is involved in training through blended learning, it can offer great results. In a business environment, it is quite unlikely for professionals to use whiteboards and paper hand-outs. They are more dependent on virtual labs, electronic books, projectors, frames, charts, and more.
Top 5 Benefits of Blended Learning
Whether you are a training center looking for effective training methods for your classroom, or a business that wishes to train its employees with the best technology and strategies, these benefits can come in handy alike.
Now that you are aware of the basic concept behind blended learning, here are the top five benefits of why implementing this training method can offer great results.
Increased Engagement
A major concern that teachers/trainers face is maximum trainee engagement, and this is something that can be achieved with blended learning. When trainees take an interest in what they are learning, they tend to focus more and are likely to learn and retain more training content.
This is applicable for students in classes as well as for trainees in conference rooms of an organization. You just need to focus on the strategy of blended learning to deliver instructions in a way that makes learning fun. Blended learning is an excellent way to eliminate monotony and boosting trainees' interest.
Improves Flexibility
The blended learning approach offers the trainer/teacher the ultimate option to utilize whatever way they like and blend those ways to present content is a more flexible manner. The business owners can email the easy-to-understand subject matter through email or in the form of a video while presenting the complex subjects on a one-to-one basis.
Since this training method involves the online component, the executives/teachers can enjoy a higher level of convenience and flexibility over when and how the trainees will participate in the training.
Make Training Interesting
Often, employees/students tend to miss out on the training because:
•It's boring
•It's difficult to understand
•It's not engaging
We've already covered the 'engaging' part above and now comes the 'fun' part. This is a great benefit of this method that makes learning/training fun. With this approach, you can incorporate different activities and visual demonstrations to add more appeal and variety to the content.
Moreover, you can incorporate audio and video to the training material to make it more engaging. These additions make even the most complex or mundane subject matter more fun to learn about.
Personalization
Failure to implement training is a way that makes more sense to the trainees/students leads to the unfocused learning experience. The key is to connect to each and every individual who participates in the training on a personal level. To do so, it is important to personalize the content as well as the training approach to make sure everyone's on the same page.
With a well-crafted blended learning solution, you can instantly engage every participant without the need of giving individual attention to each candidate. However, this requires you to do your research and know the type of people you will be addressing. Add that factor to your material and personalize the content accordingly.
Cost-Effective
Most organizations are focused on goals that help make maximum profits. And blended learning can help you with it. This method of reaching out to your employees to ensure they are well-skilled and upgraded according to technological growth can be highly beneficial in monetary terms.
You now have the opportunity of incorporating more online options to your training program. It saves on missed work as well as on travel. For on-site and remote clients, you can hold the training session at a time by simply hosting live online events. You can reach out to everyone on their personal devices without leaving your own desk or having the need to book a large room for training purpose.
Conclusion
The best way to experience all of these benefits and more, try out blended learning by yourself. The concept helps boost effectiveness in the education system as well as workplaces by making routine tasks easier and helping the society upgrade their knowledge and skills without investing money.
Author's Bio:
I'm Professional Digital Marketer