Thematic funds carry a narrower exposure to diversification. In fact, in some cases you won't find any scope for diversification since these funds put their main focus on investing in a particular area, such as infrastructure industry. They defy the basic rule of mutual fund investing, i.e. to make a diversified portfolio, but still manage good performance depending upon the sector they have chosen.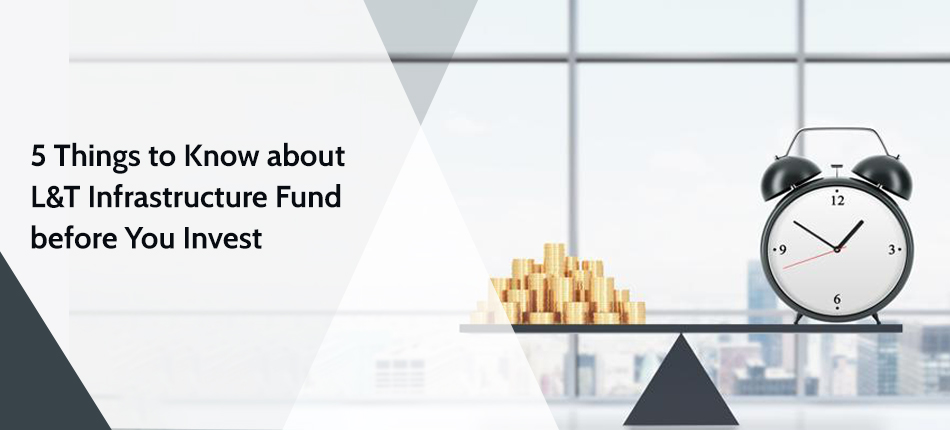 L&T Infrastructure Fund is one of the top-performing thematic funds in India. It has its main focus on the rising infrastrure industry, which has a net worth of close to $1 trillion. The government's initiative to improve the infrastructure facilities in the country has further raised the opportunities in this industry, and hence, will be a good place to start a value-oriented investment.
In this article, we'd discuss some important points associated with L&T Infrastructure Fund G that will help you to ensure that you're not pinning your wealth on the wrong course.
The Important Checklist before Investing in L&T Infrastructure Fund
The Investment Conditions : L&T Infrastructure Fund – Regular Plan (G) is indeed a good thematic fund. However, there are some conditions attached to it that need to be fulfilled for buying a stake in it. The first condition is to set the investment horizon long, say between 5 – 7 years for achieving the best results. Short-term investment is not possible as there's an exit load of 1% in case you withdraw more than 10% of units within 365 days. Next, you shouldn't try to time the market and make adjustments to your portfolio. That would be unnecessary, since the market is a volatile place and doesn't hold any scope for future predictions.
The Risk Analysis : Considering the risk factor before you step ahead with an investment plays a crucial role in deciding its success. Being a thematic fund that pins its entire wealth on infrastructure industry, L&T Infrastructure Fund (Growth) carries a higher risk factor in comparison to other funds that promote diversification. Hence, in order to be successful at investing in this fund you ought to have a bigger risk appetite.
Looking at the Past Results : The past results is one of the most dominating factor in deciding over the funds for your portfolio. Obviously, you'd want only the top-performing funds for your portfolio to achieve desired results, and for that you need to take a careful look at the past performance of the fund. L&T Infrastructure Fund – Regular Plan (G) dwells a good past record, which shows that the fund spewed returns worth 13.29% in the last five year. This is a massive achievement in comparison to what was earned by the benchmark (7.10%) and the peers (10.33%).
Pay Attention to the Portfolio Construction : The way a portfolio is constructed has a heavy impact on the outcome of the fund. The internal allocation of assets among various stocks, and the industries to which they pertain, play a crucial role in deciding the fate of the fund. Though a thematic fund focused on infrastructure industry, L&T Infrastructure Fund (G) strives to attain diversification by adding large cap, midcap, and small cap stocks together in the portfolio. This stabilises the volatility and provides some risk coverage, thus making the fund safer.
Find Out the Companies Holding Major Stakes : The companies that are holding the largest piece of the portfolio budget shall be high-performing and successful companies. If weak candidates without any future prospects are chosen, the chances of wealth building will be rendered slim. At L&T Infrastructure Fund (G), the top holdings are held by successful companies that includes Larsen & Toubro, Reliance Industries, Grasim Industries, Bharti Airtel, and the Ramco Cements. Hence, it can be said that since the major stakeholders are well-off, the fund has a high chance of a successful future with a number of growth prospects.
If you are somebody with a high risk appetite and the zeal to earn high returns, then L&T Infrastructure Fund will suit you aptly. This fund has a good past record for returns and also dwells enough opportunities for further expansion. So, don't wait! Call you financial advisor today and start investing.
Summary: Thematic funds are one of the best ventures for creating wealth in the long run. Since they pin the wealth on high-performing successful industries, the chance of success magnifies. Choose L&T Infrastructure Fund (Growth) to leverage on the growing infrastructure and achieve your long-term objectives.
Author's Bio:
Dishika is a copywriter and voice over artist. She now devotes most of her time writing articles on mutual funds and other trending topics on finance for the online investment portal, MySIPonline.