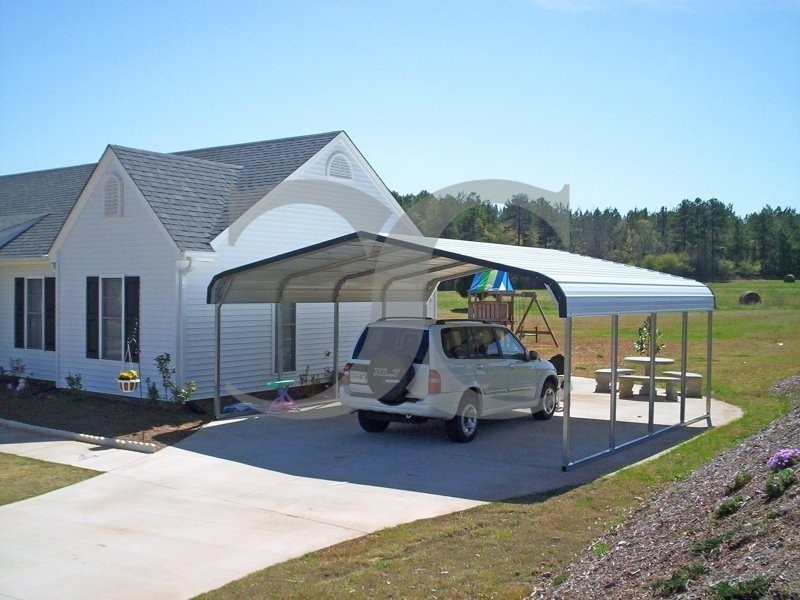 Do you have a car that stays without a roof throughout the year? If yes, then you are hurting your valuable investment. You must have noticed that your car demands frequent maintenance. In addition, you must be spending more money on maintenance than your friends who have a shed to park their vehicles. Your car is tolerating all kinds of weather conditions. From harmful UV rays to rain and snowfall, it is braving through various types of harsh climate conditions.
It may be a costly decision for you to build a garage at your place. But today, you have an economical way of protecting your vehicle. It's a metal carport. Also called steel carports, metal carports are a simple yet effective solution to park your vehicle securely when the weather outside is not favorable. They are a flexible shed solution that allows to add a carport to your home and make the most out of it.
There are many advantages to installing a metal carport. Below are 7 of them:
1. Weather Safety
Although a carport is a simple steel structure, it is capable of protecting your valuable investments like a car from all kinds of weather conditions. Whether it's raining heavily or it's a hot sunny day, the steel shed effectively protects your car from harsh external elements.
2. Parking Close To Home
Metal carports are available in many types and sizes to choose from. If you have one vehicle, then pick one of the single metal carports that fall within your requirements. Apart from that, you also have options of double carports and triple-wide carports in the case of multiple vehicles to park. In this way, you get a safe parking solution close to your home.
3. Safety Of Vehicles
When you build a steel carport at your place, you get the freedom to park your vehicle near you. This eliminates the danger of your vehicle being stolen by someone. There are fewer chances that someone will enter your property and try to steal your valuable investment.
4. Extra Space
One of the greatest advantages of metal carports is that you can customize them as per your requirement. If you want extra space in your carport, then you can easily customize it to serve a purpose.
5. Storage Area
Apart from single and double carports, there are utility carports that come with a shed and a storage room. Installing one of them, you can easily protect your car from outside elements while keeping some valuable inside the storage room. The storage area features a door to easily access it.
6. Entertainment Area
In the case of house parties, you can turn your metal carport into an entertainment area. You just need to decorate it and make some necessary changes to it. It serves as a cost-effective area to plan a house party and have fun with friends.
7. Added Value
Modern-day metal carports not just provide you with a secure parking space but also add value to your home. You can customize your carport or add your favorite color to it and match the shed with other portions of the home.
Conclusion
These are some of the greatest benefits of having a metal carport at your home. You can install one within your budget at your place. There are metal carport manufacturers who offer free delivery and installation services when you purchase a carport from them.
Author's Bio:
Niti Sharma is a professional writer, blogger who writes for a variety of online publications. She is also an acclaimed blogger outreach expert and content marketer. She loves writing blogs and promoting websites related to education, fashion, real estate, health and technology sectors.