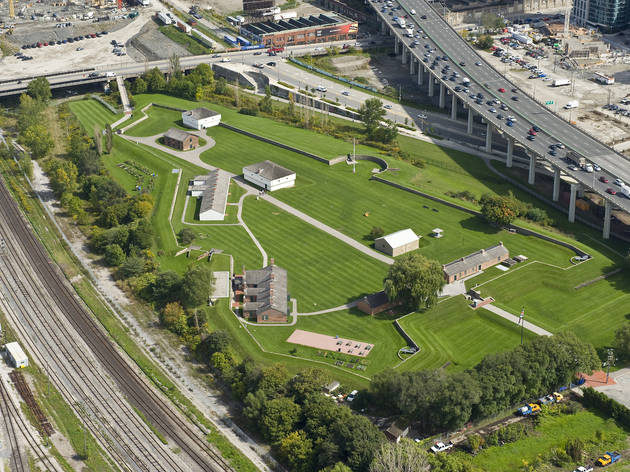 Fort York does not only have such rich historical significance in Toronto, but it has grown as a prominent neighborhood around the area. It's a good mixture of the old and the new, altogether.
Back in the 19th century, Fort York used to be the home of the Canadian militia and British Army subsequently guarding the territories of the Toronto Harbour. Throughout the whole military settlement, there are 8 historical buildings all crafted with stone-lined earthwork that sits within the 41 acre site.
During 1909, the government gained ownership of the area while the Canadian military has continued making efforts to protect its territory. Since then, Fort York was included in the National Historic Site of Canada in 1923, making it one of the top tourist attractions in the area.
At present, Fort York has evolved into an active and lovely neighborhood surrounded by modern buildings, condo residences and major establishments. It has become the hub for business, finance and even arts.
Although the change in the area is quite evident, it's still admirable how the neighborhood has maintained the flora and fauna of what used to be an active military settlement. Some memories might not be good from the past but remembering the history helps the residents appreciate the present.
No doubt why young people flock this area because of its newly restored building, quaint cafes and upbeat environment. If you're looking into moving at Fort York, here are some cool condo listings from CondoMapper International just for you:
Studio with 1 Bath for $439,000
If you're just starting, this studio property located in 231 Fort York Blvd #526 might be just right for you. Perfect for single professionals who are always on-the-go featuring minimal and functional interiors to keep up with a comfortable condo living.
1+Den Bedroom, 1 Bathroom and Parking Space for $599,900
If you like an extra space for a roommate, no need to look further. This condo located at 215 Fort York Blvd #901, can comfortably accommodate at least 3 people. Perfect for college students and young professionals.
1 Bed, 1 Bathroom and 1 Parking Space for $639,000
No need to go to Paris to experience living in a renovated historical building. This historic condo unit in 38 Grand Magazine St #1643 offers such nostalgia with a mixture of modernity. Unlike other properties along the city, this property even offers a spacious parking space to park your car safely.
1+Den Bedroom, 2 Bathrooms and 1 Parking Space for $698,000
Having a housemate is fun, but it's more fun when you get to have your own privacy while harmoniously living together. With its 2 bathrooms and spacious floor plan, you're sure to have your own comfortable space without invading someone's privacy. This condo is located at 600 Fleet St #828.
Whether you're flying solo or with your friends and family in Fort York, there's always a condo unit that's right for you. Just make sure to check the updated listings at Condo Mapper for your next condo lookout.