To celebrate Father's Day this Sunday (June 21st) here is a look at 10 loving and inspiring fictional fathers. Some are men, some are even women. Some are old, some are young. Some are biological and some are surrogate. Some are crazy scientists and some are super spies. But above all, all these men have one passion in their life and that is their children. They might not be real people but their love and devotion reminds us why we love our Fathers so much. (Warning: It does contain spoilers about some movies/television shows)
1.) Jack Bristow, ALIAS (played by Victor Garber)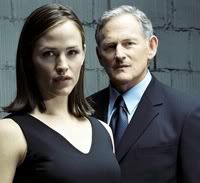 Jack Bristow is not a textbook father at all. He is a spy for the CIA and spent most of his daughter's childhood away on top secret espionage missions. Because of him, his daughter was also sucked into the same dangerous occupation. But the minute you meet Jack you realize that his entire life is defined by one thing - his daughter, Sydney Bristow. He goes to jail for her, kills people for her, exposes himself to deadly nuclear radiation for her and in the end blows himself up -- all just to save his daughter. He might not be winning the Nobel Peace Prize anytime soon, but he gets my vote for the most kick-ass dad.
2.) Sam Dawson, I AM SAM (played by Sean Penn)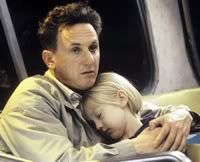 Sam Dawson might have the mental equivalency of a 7 year old, but despite all the challenges that life throws at him he successfully manages to singlehandedly raise his daughter, Lucy. Unfortunately society does not make it easy for Sam and like his whole life, fatherhood comes with many trials and turbulations. He is constantly tested by the system and has to fight endlessly to be a part of his child's life. But Sam's love and devotion for his daughter is never waivered. In the end, Sam Dawson does get his daughter back because nobody can deny the purity of his love for his daughter.
3.) Guido Orefice, LIFE IS BEAUTIFUL (played by Roberto Benigni)
Guido always has a smile on his face no matter what life throws at him. He is a simple man, who loves his wife and his son. But Guido's true test as a father comes when he, along with his wife and son are taken to a Nazi concentration camp during the Holocaust. After getting separated from his wife, Guido hides his son in order to prevent them from taking him away. To protect his 4 1/2 year old son, Joshua, from the horrors of the concentration camp, Guido convinces him that the whole thing is a game show in which the first person to get 1000 points wins a tank. He devotes every last bit of the energy he has left to maintaining the story and making sure there is always a smile on his son's face.
4.) Atticus Finch, TO KILL A MOCKING BIRD (played by Gregory Peck)
Atticus Finch is the perfect role model any child could ever ask for in a father. He may not have magical powers or save the world from apocalypse, but he is a hero in every way. He is a lawyer and a single father raising his two children - Scout and Jem. He is the very ideal of courageous, kind, respectable and moral. His shining quality is evident in the advice he gives his daughter "You never really understand a person until you consider things from his point of view, until you climb inside of his skin and walk around in it". The most important lesson he teaches his children is to be fair, open-minded, judicious and generous neighbors and citizens. Atticus stands up and fights for what is right and noble, and that makes him superman.
5.) Chris Gardner, THE PURSUIT OF HAPPYNESS (played by Will Smith)
Chris Gardner is a smart salesman that makes one mistake that ends up shattering his whole world. A wrong investment breaks his family and bankrupts Chris. He ends up on the street with no money and no future but 100% committed to his son Christopher. Chris struggles every day to rebuild his life and his career. He juggles a high stakes internship for a new career as a stock broker and fatherhood at the same time and excels at both. There are many heartbreaking days when he is barely able to provide food his son and even days when they are homeless and have to sleep in subway restrooms and office cubicles. But no matter what happens, Chris' devotion to his son never falters. He had never known his father and thus makes sure that no matter what happens he is always present in his son's life. Chris Gardner might be a great rags to riches story but beyond all that, he is another inspirational father who was always there for his child.
6.) Daniel Hillard or Mrs. Doubtfire, MRS. DOUBTFIRE (played by Robin Williams)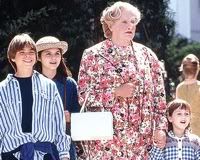 Daniel Hillard might not be a successful voice actor but he absolutely adores his 3 children. When his marriage fails and his wife gets primary custody of his kids and his visitation is reduced to Saturday nights only, Daniel does the only thing he can -- becomes a woman. He goes through a very arduous routine and transforms himself into a woman to apply for a job as a housekeeper for an ex-wife. As Mrs. Doubtfire, Daniel is able to see his children everyday and be the father he was never able to before.
7.) Heathcliff Huxtable, THE COSBY SHOW (played by Bill Cosby)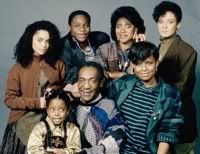 Cliff Huxtable was a very cool dad in every way. He not only provided for his family but he was always there for his wife and their 5 children. No matter what they did right or wrong, Cliff was always there with his always humorous and helpful advice. He is the kind of man you look at and go, "I wish my Dad was like that!" He is constantly encouraging his children to reach their maximum potential and overcome whatever curve ball comes their way. Mr. Huxtable is a hands-on dad, who parents with a sense of humor and some tough love.
8.) Mufasa, THE LION KING (played by James Earl Jones)
Who wouldn't want their dad to be King? Mufasa is a strong, regal, wise and fair King to the animals in his kingdom. He is not only a good King, but a great father to his son, Simba. He teaches Simba to be fair, patient and respectful to other animals. When his evil, jealous and deceitful brother attempts to kill Simba, Mufasa sacrifices himself and falls to his death, saving his son.
9.) Danny Tanner, Joey Gladstone and Jesse Katsopolis, FULL HOUSE (played by Bob Saget, Dave Coulier and John Stamos )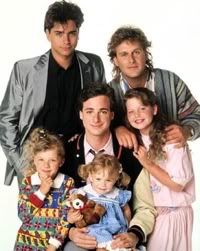 Danny Tanner's wife passes away in a car accident and he is left with the responsiblity of raising his 3 young daughters. He enlists the help of his best friend Joey and brother-in-law Jesse to raise D.J, Stephanie and Michelle. They learn as they do and they don't always get it right on the first try but they never give up. They are 100% devoted to the girls.
10.) Dr. Walter Bishop, FRINGE (played by John Noble)
Dr. Walter Bishop is a brilliant scientist but an accident puts him overboard and lands him in a mental instituition for 17 years. He is released years later by his only son Peter, who he doesn't have much of a relationship with. After all the years in the mental instituition Walter might not remember it all or have it all his bearings in control but there is one thing he is absolutely sure of - his love for his son. The more you get to know Walter, you realize that he did most of it for Peter - including bringing him back to life from an alternate world after he died. Yes, sounds confusing but no matter how crazy Walter might be, he loves his son.
So there you have it - 10 memorable fictional fathers.
Hope you have a Happy Father's Day with your fathers.
Author's Bio:

Intent.com is a premier wellness site and supportive social network where like-minded individuals can connect and support each others' intentions. Founded by Deepak Chopra's daughter Mallika Chopra, Intent.com aims to be the most trusted and comprehensive wellness destination featuring a supportive community of members, blogs from top wellness experts and curated online content relating to Personal, Social, Global and Spiritual wellness.