Eating proper is an important component of healthy muscle building. In fact, eating healthy is the crux of a fit healthy body. A proper diet comprises of all the necessary nutrients and minerals. However, many remain unsure about what to eat for dinner? What must the meal comprise of? Whether it will provide good health and help build muscle?
Thus, to answer the question, we present you the best healthy muscle building dinners to try out. As a matter of fact, they are perfect, clean and help maintain a stellar health. In addition, they are classy, though you may have to munch on small portions. Besides, these recipes make a perfect fit for bodybuilders. Therefore, check out below and enjoy your dinner with a healthy diet.
The top 5 healthy muscle building recipes for all fitness lovers. Read on:
Salmon Baked with Mustard and Grilled Asparagus
A perfect combination of health and taste. In fact, this dinner recipe is a storehouse of all necessary nutrients. Salmon is rich in protein, healthy fats and nutritious to eat. They are one of the best sources of protein in seafood. However, cooking it is equally tricky too. Whether you pan fry it in a dab of olive oil, roast or broil it. Salmon is versatile fish and a delicious way to upgrade a healthy dinner.

Chicken Breast and Yam Rolls
Firstly, chicken is a rich source of protein. In fact, proteins help in healthy muscle building, thereby increasing the levels of testosterone. Filling your plate with this yummy recipe is all fun and satisfying. The rolls comprise stuffings of peas, carrots, and corns. This renders a perfect taste and makes you feel full quickly which prevents you from overeating. A single serving comprises of 603 calories, 69g protein, and 61g of carbs.
Cheesy stuffed chicken breast and Brown Rice
Are you looking to add taste to your diet? Do you wish to have spicy and rich food? However, do you also wish for rippling muscles as well? Then this cheesy stuffed chicken recipe will spark your dinner for sure.
The chicken breasts comprise of spinach, tomato, and feta cheese filling. This renders the food a yummy and savory taste. Also, combining it with brown rice makes it look appealing and bright. In fact, we are sure once you try this chicken you will never eat regular chicken breast again. It's a perfectly balanced food for a light dinner, surely it will satisfy your hunger in a healthy way.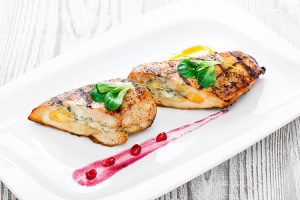 Lean Beef Meatball Spinach Pasta
Delicious, healthy and divine is how we describe this meal. Beef protein is an important element for healthy muscle building. And meatballs are a perfect stop for solid protein building when done right. They are affordable and tasty, this helps prepare a muscle-building meal which is still pleasing to the palate. Make sure to use lean ground beef or ground sirloin along with sauteed spinach or frozen spinach if that is easier and combine it will a whole grain or veggie pasta. Above all, it comprises of all necessary nutrients in a well-balanced meal.
Banana Split with Protein Ice-cream
Building a good muscular physique is not easy. In fact, it requires immense training and following a strict diet. Thus, munching on ice-cream may leave your diet going haywire. However, this particular dessert can actually help you builf mudvlr. Grab aLabrada ISO Lean Pro with a gold bar or any protein bar will do. And, create a banana split and relish your cheat meal with tears of joy. Rich in proteins and minerals, it makes for an ultimate meal. You can also have it for dinner, why not you've earned it.
Build your muscles without compromising on your taste buds. The path to muscle building is now tasty and yummy.
Author's Bio:
Grant Donovan is a successful entrepreneur and founder of many disciplines including aviation, automotive, political, anti-aging and life coaching to name a few. But it is his passion for health, nutrition and fitness that he attributes as the leading factor for his success. All of which led him to create mensfitclub.com to share his large breadth of knowledge with the everyday man, and empower them to make the changes that will help lead to their success. He believes a life in balance of mind, body and soul is a life well lived and only when achieved can one unlock their true potential. At age 60, Grant serves as a living example of why staying healthy not only helps you live longer, but the improved quality of life, will allow you to push past boundaries and reach new heights you never knew were possible. With his inspirational personal journey of achievement he has motivated over 350,000+ subscribers to make a positive change in their life and guide them on their pursuit of happiness.