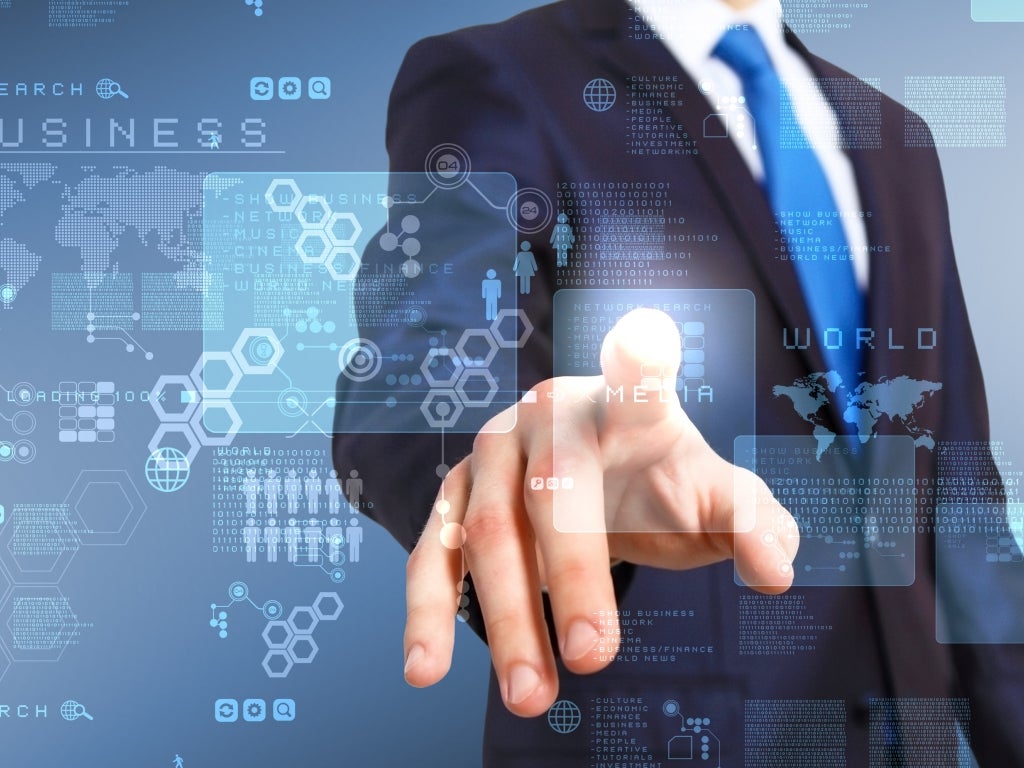 Innovative technology allows your company to grow further and operate better than before. Whether it is software that automates tasks or hardware, such as a biometric scanner, today's enterprise-level businesses must be savvy about the benefits that modern technology will give their companies and their customers.

Businesses are joined by schools, non-profits and government entities in needing the features offered by enterprise technology. Here is a sampling of the latest.
Biological Authentication Technology for Personnel Time Data
Passwords, pass cards and punch cards are on their way out. Biometric scanning is becoming the more popular identification technology.

Companies are realizing that knowing who is in their buildings is a very important security issue. Getting an accurate scan of fingerprint, palm print, eye retina or facial recognition is imperative. In the past, casts of a fingerprint were occasionally used to fool the system, but new technology makes that virtually impossible.

Biometric finger scanning now takes into account the tissues below the skin. Several data points on and in the finger make up an encrypted code that uniquely identifies a person. It is impossible to trick these types of readers.

For security and safety purposes, bio-readers can be set up to immediately locate an employee. As the person leaves one area of the company and enters another, his whereabouts are tracked in real time using the biometric fingerprint reader. If the company has several locations or job sites, a supervisor or contractor's time on site can be recorded with extreme accuracy.

Those who work in the payroll department appreciate this technology. Since the biometric reader clocks an employee in and out of work to the second, the number of hours worked is extremely accurate. Furthermore, there can be no disputes as to whether a person worked on a particular day. The old buddy system of punching in and out for a friend no longer works.
Enterprise-System Technologies
As a business grows, it hits a point where tasks and time face off for battle. Adding more employees may not be the best option. Not only does that involve an increase cost in payroll and benefits, the facility may not be able to accommodate more office space. That is when enterprise-system technology can win the war.

This technology is a large-scale, business-wide software system comprised of many modules that perform the various functions needed by the company. Any task that can be automated is included in the enterprise application, as well as those that cannot.

Enterprise systems (ES), such as ERP software for construction, are ideal for information flow, data analysis, reporting, inventory, customer records, physical assets, inventory, ordering, accounting, payroll, staff records and nearly anything needed by today's companies. The heart of an enterprise system is the company's database, which can be accessed by all the modules/components that need it. Of course, security and management-only access are factored in.

If your employees are forced to duplicate efforts, maintain separate databases or pull one report from one place and a second report from another, then an integrated central-database software system would reduce the workload and free up time to focus on growing your business to the next level.
Smart Office Technology
Smart office technology is saving companies money.

Smart office buildings use sensors to shut lights off when no motion is detected in the room. Sensors control the work environment, saving money on lighting, heating and HVAC. Humidity is sensor-controlled, as are window shades and other factors that affect the workspace.

Meeting rooms can have programming that notifies those who are scheduled to attend the meeting. Lights are automatically turned on when attendees enter the room. The smart system can monitor which meeting rooms are used most often so that management can make an informed decision about which rooms do not need to be heated or cooled, saving further energy costs.

Security guards cannot be everywhere at once but tight security is necessary these days. Signing into the building using smart office technology can help keep fired employees from entering the workplace. Managers of a smart office building can designate areas where workers or intruders are not supposed to enter. Sensors alert security workers on their smart phones when an off-limits area has been breached.

Enterprise-level businesses can benefit greatly from these and other state-of-the-art technologies to save money, integrate the main database throughout the entire company, track employees, beef up security and perform a myriad of other company-related tasks.
Author's Bio:
Anica is a professional content and copywriter from San Francisco, California. She loves dogs, the ocean, and anything outdoor-related. She was raised in a big family, so she's used to putting things to a vote. Also, cartwheels are her specialty. You can connect with Anica here.