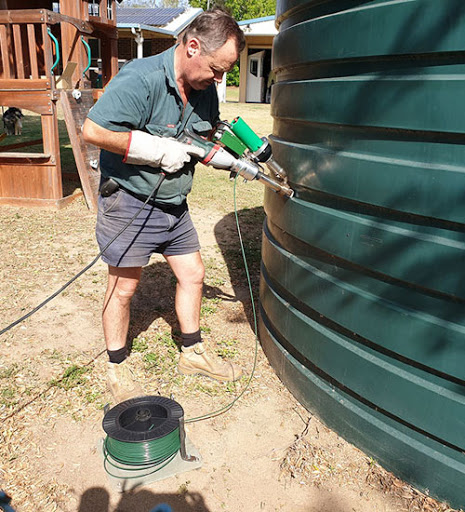 Plastic tanks can be used in multiple ways for day to day purposes. It plays an essential role in industrial causes as well as for basic daily household needs. Whenever you spot damage or leakage in a plastic tank, you must call a plumbing service in your locality as soon as possible. There is a step by step techniques professional uses to fix a plastic tank.
Before you start with the process, points out that you need to remember:
Call for extra help instead of following a DIY technique
Get yourself adequately prepared with repairing kits or hire services that are equipped with all the necessities.
Some Plastic tank repairing toolkits:
Welding Gun
Utility Knife
Plastic tank repair epoxy
Now, check how to follow a step by step method to fix a hole in a plastic tank:
Step 1:
First of all, drain all the water from the tank, and dry it out. Those tanks which are used for industrial purposes make sure they are free from any residue chemicals. Clean the interior as well as the exterior of the tank.
Step 2:
To start with the process of poly tank repair, scrub off the area around the leakage with sandpaper. This helps the epoxy to stay attached to the plastic tank more conveniently.
Step 3:
Clean up the leakage area after rigours scrubbing to get rid of all the dust and dirt around the surface of the plastic tank. Wiping down process is highly effective so that the epoxy sealing the stick to the plastic tank surface.
Step 4:
Mix the epoxy as per the knowledge of the expert plumbing service's instructions.
Step 5:
Now check the size of the leakage. If the leakage is deep, then use Fiberglas textured net underneath the epoxy to fill up the hole effectively. For a small size leakage, apply the only epoxy to enclose the hole.
Step 6:
Experienced plumbing service professionals use a thin layer of smooth epoxy to seal the area.
Step 7:
Allow the epoxy to cool down and give time so that it can stick to the surface, leaving no trace of further leakages.
Step 8:
Now after 24 hours, fill the tank with water, and check if any further leakages need to be fixed.
Some FAQs:
Can I repair my poly tank with DIYs?
Professional hands are required to fix a poly tank leakage. They are equipped with professional tools.
Is epoxy plastic tank repairing a costly procedure?
No, it is a cost-effective procedure. You can save money with these procedures.
How many days does it take to get repaired?
Plastic tank leakage repairing takes approximately two to three days. In case of emergency, rent industrial plastic tank for a few days before the tank is fully in working condition.
However, you cannot leave the tank with leakages for a long time. It will attract more dust, dirt and insects if you keep it like this for the longest time.
For more concerns related to tank repairing and damages, contact reputed plumbing service in your locality before the condition is worst.
Author's Bio:
The author mentioned various aspects of plastic tank repair, especially on how to fix a leakage with plastic tank epoxy welding.