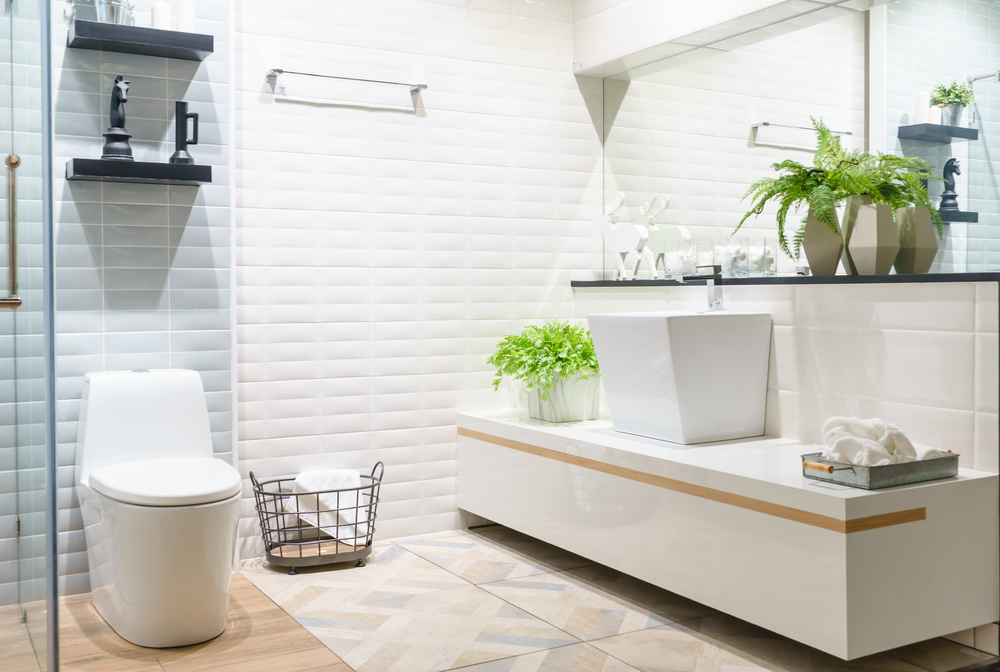 Do you want to reform your bathroom but its size is not too large? Are you looking for your small bathroom to be comfortable and safe? Do you want to know how you should decorate your small bathroom? Discover how to decorate your small toilet and follow some tips. Before read on, if you are looking for best Bathroom fitters in town, you must checkout www.eaglerefurb.co.uk
When we consider reforming our bathroom we must always keep in mind to gain more square meters and expand the space. To do this, we must consider certain factors such as distribution, lighting or the color of the walls and floor. Every aspect can help you gain more spaciousness in your bathroom. If you want your toilet to be comfortable, safe and look bigger than it really is, you should pay attention to these tips.
1. Use light or soft tones
Light colors enhance the luminosity and the feeling of a wider space. For the decoration of a small bathroom you should avoid strong colors and dark colors because they visually reduce space. The most appropriate color for these cases is white becomes the best option for these small rooms. In fact, it is recommended to use white tiles both on the floor and on the walls.
2. Consider the lighting
It is one of the most important points when decorating a small bathroom. You should take advantage of natural light, as much as possible. Avoid curtains on the windows so that natural light can enter illuminated the space. In case you do not have windows, then use low-power lighting or LED to clarify your space. You can place several points of light in your toilet so that it looks wider and has greater clarity. Strips of light in the mirror or a skylight can help make your bathroom look more spacious and have better lighting.
3. Change the bathtub for a shower
If you have a bathtub, we recommend changing it to a shower tray. A shower always brings greater comfort, space and security. It is proven that a shower tray is much safer for older people and children. In addition, they do not require too much space and their maintenance is much simpler.
4. Use shower screens or panels
Transparent glass screens will help you to feel even more spacious. Another very good alternative is the shower panels, they are easy to install and do not require too much maintenance. Forget the curtains and bet on shower screens or panels.
5. Mix textures
Textures provide color in accessories and textiles. Get some contrast in the tiles with relief tiles, you will achieve a dynamic and different feeling.
6. Do not resort only to white
There are neutral colors, pastels or earths that you can also use to decorate your bathroom. Use various color combinations to create a proper and harmonious decoration. You can also choose to use materials that mimic others, such as tiles that simulate wood.
7. Washbasin and furniture
The best thing is that your bathroom sink incorporates a piece of furniture. In this way, you take advantage of the space at the bottom of the sink to place your toiletries. It is important to opt for the lightness of the shapes and make sure that it does not take up too much space. Avoid standing sinks and try to take advantage of the space underneath to place your accessories.
8. Remove the bidet
Less and less families have a bidet. The space that this accessory occupies allows you to use it for the shower or to place a wider washbasin front. Take advantage of this space to place a piece of furniture or shelves to store your accessories.
9. Bet on sliding doors
The foolproof trick to gain space in small places are the doors. Ideally, the bathroom access doors are sliding. In this way, you will save space at the time of opening and it will not be so uncomfortable to open and close the door. In addition, these types of doors are comfortable and very easy to clean.
10. Use mirrors
One of the main accessories of a small bathroom are mirrors. These help your space to have a feeling of spaciousness and greater luminosity. It is best to choose large mirrors and if they are those that completely cover one of the walls, the visual effect of amplitude will be greater. It is totally recommended for small bathrooms.
11. Install and custom nodoros
Bet on indoros that fit the size of your bathroom. There is a wide variety of sizes and models. A highly recommended toilet are those that are suspended, save space and help make the bathroom look much bigger. It is recommended that the toilet be located at a distance of 30 cm on each side and on the same wall where the sink is located.
12. Maintain order
Keep in mind that a bathroom full of accessories and complements will seem much smaller. You must maintain the order of your accessories and in any case use shelves or baskets to locate your things. You can also decide to install hangers behind the door or on top of your toilet to hang towels or toilet textiles. Organize your space and maintain order.
The decoration of a small bathroom can be a real headache. We propose a collection of photos of modern small bathrooms where you can find several ideas of style and decoration.
Converting a small and old bathroom into a modern and practical bathroom is one of the top priorities in terms of decoration.
As a summary, we can say that you have to opt for a shower or a half bath and take advantage of the space under the sink to place a bathroom cabinet to store everything you need for hygiene. You have to pull mirrors, which will also help us give a wider look, combine colors well and choose decorative elements and lighting correctly so that your bathroom does not look so small.
Author's Bio:
Angelina is a regular contributor at The Independent, The Onion, Selfgrowth.com etc