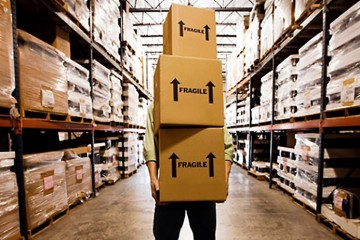 Large warehouses can be a challenge to maintain and secure. In order to keep your clients and deliver a great customer experience, you will need to carefully handle and manage your clients' products. These four steps will guide you through the process of designing proper inventory storage and safety protocols, and addressing climate control issues so that your clients will maintain a high level of confidence.
Packing and Stacking
Offering packing services may be helpful to your customers who are busy. As they drop off their products, you can handle the packing and stacking of the bins, containers or pallets of items. This allows you to maximize the storage space in your facility. It also saves your clients' time, since they will not have to go all the way into the warehouse and do the packing and stacking themselves.
Providing Climate Control
If your clients are storing perishable items, consider offering walk-in cooling units and cold storage. Climate-controlled storage such as the processing units manufactured by MTA Australasia allows you to serve a variety of needs for your clients. Frozen foods, dairy, meats, and produce all benefit from this type of storage. Sensitive electronics also benefit from being stored in cool environments.
Securing the Facility
Serving a lot of clients' storage needs in your warehouse means that you may have a lot of people coming and going from your facility. It is important to offer security to your clients. Securing the stored items is an essential part in providing great customer service. You might consider key card or keypad access, video camera monitoring and security guards inside and outside of your warehouse.
Keeping Pests Away
Pests such as rodents can easily chew through cardboard boxes of items stored in a warehouse. Other pests, such as cockroaches, centipedes, silver fish and ants can also get inside of a warehouse. Ensuring that the facility is free of pests helps you to properly care for your clients' products. You can contract with a pest control service for prevention and have them on standby in case you discover an issue such as a rat getting inside of the warehouse.
Keeping your clients' items in the same condition as they were when the client dropped them off will help you to maintain loyal customers. From careful handling to ensuring that your facility is safe and up to code, you can take action to care for your clients' products. These inventory storage actions allow you to provide excellent customer service.
Author's Bio:
Lizzie Weakley is a freelance writer from Columbus, Ohio. She went to college at The Ohio State University where she studied communications. In her free time, she enjoys the outdoors and long walks in the park with her 3-year-old husky Snowball.