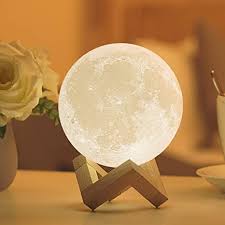 Have you been wondering about the moon lamp that everyone is having in their bedrooms nowadays? Why has it taken the lead?
Well, it is a trendy gadget that is being loved by everyone and has created the hype these days. If you also want to have one in your room, then here is a complete guide on its specs that will help you to know more about it. Also, assist you to buy it.
Moon lamp - what is it?
A Moon lamp is a lamp that has the shape of the moon. It works the same as the normal lamp does. The best feature of this Moon lamp is that it is made 100 percent according to the scale of the moon with the help of 3D printing technology.
The Moon lamp looks like a real moon - why?
The moon lamp has the following properties which help in making it look like the real moon.
Perfect 360° lunar texture (Texture data is taken from NASA)
High printing precision
Moreover, the thickness of the surface of the lamp is unusual. The reason they have a varied light transmission.
That is why the moon lamp has a very real influence including bump, crater, light, and darkness. All these things help to give off a realistic effect.
How can you make use of this moon lamp?
Moon lamp is a very aesthetic product. This impresses almost everyone. So, for that reason, you may use it for the following purposes.
You may give this moon lamp on anyone's birthday. Be it your girlfriend, child, parent, or friend.
It can also be given as a holiday gift such as Christmas, Valentine's Day, Mother's Day, Thanksgiving, etc.
As a memorial gift, moon lamps can be given on wedding anniversaries or honoring loved ones who have passed.
Further, you can make use of a moon lamp as following purposes:
The light from the moon lamp is delicate and ideal for the study bedroom. Particularly suitable for children's rooms to safeguard eyes and facilitate sleep.
You can also take it with you when going camping. It gives a good effect on camps. Moreover, you can utilize it for USB charging. You don't need to worry about how to carry it because it is very easy.
The graceful moon lamp with shape, fashion, and simplicity may work as a decoration piece. The moon lamp can help to adorn the beauty of life and add a little romantic environment to your living room.
As we know that the moon is too far away for us to reach. So, the moon lamp has made it easy for you. Photography fanatics can utilize the moon lamp to seize the beauty of the lamp and dye a hazy and calm picture. Also, it adds endless vision to your mind.
Other parameters you need to know about the moon lamp.
Here are the other parameters that you should know about the moon lamp if you are about to buy it.
Sizes (inch)
The size of the moon lamp varies between 3.5′, 3.9′, 4.7′, 5.9′, 7.1′, 7.9′, and 9.4′ inches.
Battery:
The battery of the lamp is 500mAh with 24 hours battery life.
Charging capacity
It can charge up to 5 volts of USB.
Switch
The moon lamp has a touch system that enables us to switch on and off.
Brackets
It gets support to stand from ceramic or wood brackets.
Light source type
The light source used in the lamp is LED energy-saving.
Material
And lastly, the material used is PLA.
Types of moon lamps present in the market.
There are roughly 8 types of moon lamps present in the market.
1. Simple Moon Lamp
The one that is mentioned above. It is a basic moon lamp that can be placed on any table. By using NASA's moon texture data, it is built as a 3D model with a 3D printer. It's giving a perfect replicated look of the moon. It comes in two colors that are cool white and warm yellow. And, you can switch between colors by touching them.
2. Custom Moon Lamp
The custom moon lamp can be customized with any of the pictures. You can have your picture printed on it which is an amazing thing. You'll feel like you're over the moon!
3. Levitating Moon Lamp
The Levitating moon lamp is the most specialized in all 8 moon lamps. It comes in a combination of levitating and wireless charging technology. And it comes in two sizes that are 5.9 and 7.1 inches. Also, it can keep on continuously rotating 360 degrees or remain stationary.
4. Pendant Moon Lamp
It can be used to decorate your home. It hangs like a pendant on the ceiling, giving a warm and romantic gesture to the room.
5. Moon Table Lamp
The moon table lamp comes with a long stand that you can place on your side table. This generally gives a normal lamp look.
6. Remote Control Moon Lamp
The remote control moon lamp comes in 16 colors and remote control. You can change the colors according to your mood.
7. Keychain Moon Lamp
The keychain moon lamp is mini moonlight that may go with you anywhere. You can twist it for the opening and closing of it.
8. Jupiter Lamp
Similar to the moon lamp, the Jupiter lamp is based on the character of Jupiter and is also created with a 3D printer.
As you're well aware of the types of moon lamps. Let me tell you that the most popular one of all these lamps is the custom moon lamp. People love to have their pictures customized on the moon. You may also try it out. If not pictures then you may get any quotation imprinted on it. It is really fun to have it. Also, the calming effect it gives makes it a must-have product. So, hurry now! Buy this amazing lamp and give your room a peaceful effect.
Author's Bio:
I am author on Selfgrowth