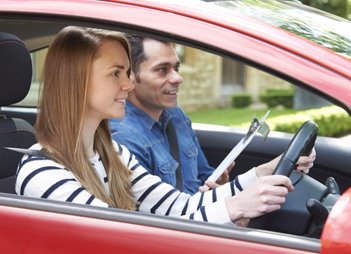 People find the driving day as their D-day. They feel it will be the scariest experience of their life. They have enrolled themselves in a driving school; put so much time and money, what if they don't get the value for it? These though scratch their mind. After all, without licensing, your driving lesson has no value. You cannot even ride through the roads without it. So the fearful part, nervousness is understandable.
But how can you make your test day a bit less traumatic? A professional driving instructor will guide you through them, you just have to follow their instinct and trust your journey. From years of experience they know the drill well, by those experiences here are some tips can be given:
Follow your instructor
You're driving instructor has seen you from the first day of your learning. They know your advantages and disadvantages. They will alert you about your weakness, and consider your strengths. Gain confidence from theirconfidence. As only they can tell you when you are ready for the test drive. The professional driving lesson school instructor in Liverpool has told their experience and how they never allow any candidate for drive testing until they are fully ready.
Take a few mock testing
Understandably, mock test and the practical test have a lot of difference. But taking a few mock situations, before facing the actual one will boost your confidence. You can take some tips from your instructor before facing real EXAMINER. Some learners tend to disobey the instructor, not listening to them enough. They don't believe in taking mock but when it comes to facing a real situation. Mock test helps.
Don't look at the examiner as your enemy
The driving examiner is not your school teacher who will cut those marks if your spellings are not correct. Sounds funny? Well most of us fear the examiner as if they are dangerous and there for you to only reject your test. It is their job and that's how they execute it. If you are someone who gets fearful from the beginning by just seeing the examiner, then it is impossible to go through a great driving test. Driving classes in Liverpool train their student in such a way that they get the ability to stand the examiner without being fearful of them. It is a common mistake you make is that you feel the examiner won't know that you are nervous before testing.
Even if you fail, make a sportsmanship mindset. Know that you lacked some skill, that's why you have been rejected this time. Grow up on your skill and come next time with skill and confidence.
On the D- Day
Full your stomach with healthy food option. You don't know how much time it could take. But have something healthy, as it helps you concentrate without making your body weight or blood sugar level fluctuate.
Be light-hearted. Take a walk, laugh, do some warm-up. It is crucial to keep your mind calm and composed.
Try to avoid caffeine or tea intake. One or two cups is enough but not more than that.
Be well-rested. Have a full 8hours sleep. Sleeping makes body charged up and keep your mind steady. Do not go tired, as a tired body cannot take the stress.
Be on time. Your discipline will reflect on the attitude of the examiner.
You can take your driving instructor along with you for morale-boosting(if available).
All you need some courage to face the examiner and do as your instructors said. That's 'all you will pass. All the best!
Author's Bio:
The author runs Driving Classes inLiverpool. By the privilege of the profession, the author knows how vulnerable candidates feel in the day of test driving and that's the reason he writes down this article.