Moms are always too busy trying to take care of their family, they often forget about themselves. I know when my daughter was born, my world revolved around her. Everything I did was for her and my husband, and I rarely took the time to think about me. When I did think about me, I felt as though I was being selfish. After having my daughter I ended up gaining 80 pounds, believe it or not I became less active after she was born. I also found myself under eating at times, then over eating at other times.
It wasn't long ago when I learned about a company called Precise Portions. Precise Portions makes products to help us better control portion sizes. In today's world, we have forgotten what a proper portion actually is, so with Precise Portions, you will never have to guess or estimate again. All you have to do is stay in the lines! Seems easy to me, I have been staying in the lines since I was about five!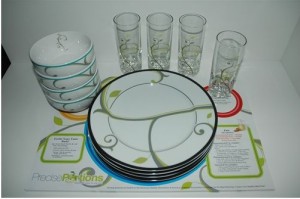 About Precise Portions:
Eating well is more than what you eat- it's also about how much you eat. In recent years, "super size" has become the norm and we've simply lost the ability to judge what a "right" sized portion looks like.
Introducing Precise Portions, a dietitian-designed portion control dinnerware system that makes it easy to eat well & control your weight. Our products take the guesswork out of healthy eating guide; retraining you to eat the right amounts of the right foods, in the right proportion. And our portion control plates & bowls are microwave-friendly porcelain, perfect for eating healthy with style. Your guests will love their beauty & you will love how easy it is to eat well.
Precise Portions chip-resistant plates and bowls are made from beautiful Porcelain China. A flowing graphic design outlines recommended portions of vegetables, grains, starch, meats and beans. FOCUS functions without compromising good looks, so you don't have to worry if company drops in - they'll never know the difference!
I received one place setting for review; I have to say these are some fancy plates. As soon as I pulled them out of the box, I informed my husband I wanted a full set. My daughter made the remark that they looked Chinese. Later that evening, my husband said he agreed with her.
From looking at these dishes, you would have never been able to guess, these dishes were designed to teach you proper portion control. Well besides the one that's marked, which I LOVE!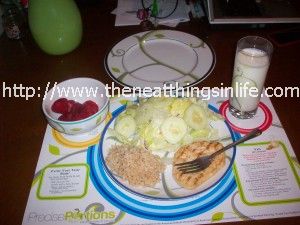 Chicken, brown rice, and a salad Yummy. My salad didn't like the camera, I guess too much light, but it was so yummy!
These dishes are well made, and will help in a big way in your weight loss journey. If you were still unsure what to get Mom for Mother's Day think Precise Portions, these dishes would make the perfect Mother's Day gift!
However, PrecisePortions.com does not just sell dinnerware; they also have a lot of information. The site also teaches you about your vegetables and their benefits, healthy eating facts, yummy recipes and a ton more.
Purchase:
You can purchase full sets, or single place settings on the Precise Portions website, prices range from $4.97 up to $199.97
Connect with Precise Portions:
Website: http://www.preciseportions.com
Facebook: http://www.facebook.com/pages/Weight-Management-System/163664220358269
Twitter: http://twitter.com/PrecisePortions
Blog: http://blog.preciseportions.com/
One lucky reader will win the items pictured below!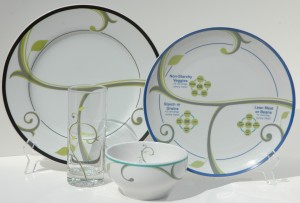 Mandatory: Head on over to Precise Portions website, have a look around and tell me something you learned! Whether it be about the product, a recipe or the company.
Want Extras?
* Follow Precise Portions on twitter. (2 extra)
* Like Precise Portions on facebook. (2 extra)
* Become a Google Follower. (1 extra)
* Become a Subscriber. (1 extra)
* Like The Neat Things in Life on Facebook, right hand side. (1 extra)
* Become a network blog follower. (1 extra)
* Follow me on Twitter. Right hand side. (1 extra)
* Enter any of CA Monkey Momma's Mother's Day giveaways. (1 extra for each you enter)
* Tweet the giveaway. This can be done daily. (1 extra daily)
Article Source:- http://www.theneatthingsinlife.com/2011/04/precise-portion-review-and-giveaway/
Author Name:-Jammie Morey
Author's Bio:
Ed Stephens started life as a Scientist and this passion has evolved into a focus on making a difference to people's lives, leveraging proven science based solutions. First with the emphasis on providing a one-stop diabetes solution store for the prevention & management of Type 2 diabetes with www.TypeFreeDiabetes.com and now with the launch of a dietitian-designed line of microwaveable, portion control dinnerware made in high quality porcelain material, now available at www.PrecisePortions.com. Ed remains committed to helping lives in these small ways and who knows what's the next adventure up his sleeves. Stay tuned!