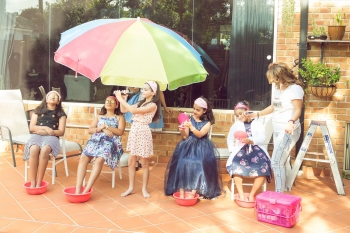 There's nothing more but soft music, a party ambience, delicious ice-cream and freedom to do whatever they please which gets the little kids going. With these, kids (more so the girls) love to splurge themselves into the luxury of being pampered.
So, you being a parent should think of hosting a pamper party for your little munchkin. With cold lemonade refreshments and their favourite songs in the background, the mistress pampers them with glittery nail polishes, hair colour sprays, etc. your little princess will be over-the-moon.
More appreciative news is that these pamper party organisers will always use non-toxic makeups and will present them with numerous little pampering sessions. So, it is a win-win situation for you and your li'l one.
For YOUR KID:- 2 Exciting Pamper Packages.
1. The Standard Package:-
The pampering kids entertainment session in Sydney lasts for a good couple of hours and costs around Au$300-Au$350. This is suitable for girls up to 12-years.
The chief characteristics of this pamper arrangement include:-
Plenty of glitzy nail polish to select for each finger if they so desire.
Wide variety of hair sprays to add a little X-factor.
A pamper hostess catering to all pampering needs.
Pink lemonade to sip while being pampered.
A comfortable bathrobe to ensure cleanliness.
Small-sized tubs to keep the feet in and relax.
The presence of a small portable music box along with wireless mike for Karaoke.
Attractive face masks complemented with subtle makeover.
Red carpet walk along with the Polaroid photo options (extra charges could apply)
Lastly, the hostess teaching the kids a litany of dance moves and games.
2. The Premium Pamper Arrangement:-
This pamper party package in Sydney may come at a slightly high price (in between Au$350-Au$400), and is meant for kids max up to 10-years.
Its Stellar Inclusions Include:-
Inclusion of a pamper hostess.
Subtle but exciting face masks complemented with light make-up.
Lots of hair spraying and face painting and styling as per the theme of the party.
Offering pink lemonade while the pampering session.
Small tubs to put the feet in and relax.
Plenty of dancing and game suggestions to spice up the party.
Portable music box with wireless mike for Karaoke
Red carpet walks with Polaroid photo for the B-day girl and her special group.
These are a couple of pamper packages in Sydney to go for. They offer sheer fun and will keep your little ones well occupied during the whole course of the event.
So, find reliable kids party entertainers for your kid's party and always ensure to select the service provider after intensive research.
To find the right supplier, here are some tips to use.
Always check their market status and the number of years they have been in this field.
Next check their customer satisfaction record and how much have they benefited from their pamper packages. If possible; seek references of some of their clients and speak to them in person. This will provide more closure.
Properly check its price by comparing it with other similarly recognised sites. It will make things more clearer.
So, use these details to find a reliable supplier and start sorting out your perfect party pamper package.
Author's Bio:
The author is a supplier of exciting pamper party package arrangements in Sydney at budget-friendly rates. Also being an avid writer, the author explains to the readers about different pampering kids entertainment session in Sydney.