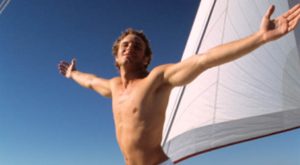 Ultimately, "we feel in our bodies what we perceive in our brain," says celebrated Life Coach, Tony Robbins. Therefore, by changing the way we think and breathe, we're able to feel better and perform with more drive, motivation and at a greater capacity to initiate change.
The truth is, all of the suffering we experience appears in our lives to help lead us back to the "work" that we love, and contribute more to society to help make the world a better place. By staying fit and healthy, it is important to let go of the ideas you're holding onto that create the development of a heavy, dense or negative feeling in the body.
Letting go is a practice of staying in touch with yourself in the moment. Breathing deeply is a way to focus on the greatness that you wish to achieve, rather than buying into your fears and negative thought patterns.
The trick is to visualize and then think of an image or idea that will help to alleviate the stress, discomfort or challenges faced in daily life. By focusing on deep breathing, you will feel better, reduce your stress, and live a longer, more fulfilled life.
For more information on deep breathing exercises, try the DVD, Relaxation & Breathing for Meditation with Rodney Yee, a world-renown yoga and meditation instructor.
Author's Bio:
Grant Donovan is a successful entrepreneur and founder of many disciplines including aviation, automotive, political, anti-aging and life coaching to name a few. But it is his passion for health, nutrition and fitness that he attributes as the leading factor for his success. All of which led him to create mensfitclub.com to share his large breadth of knowledge with the everyday man, and empower them to make the changes that will help lead to their success. He believes a life in balance of mind, body and soul is a life well lived and only when achieved can one unlock their true potential. At age 60, Grant serves as a living example of why staying healthy not only helps you live longer, but the improved quality of life, will allow you to push past boundaries and reach new heights you never knew were possible. With his inspirational personal journey of achievement he has motivated over 350,000+ subscribers to make a positive change in their life and guide them on their pursuit of happiness.