Today June 25, 2009 is truly a sad day. Today is the day that the world lost a legend as Michael Jackson passed away from a cardiac arrest. People may know him as a lot of things, some good and some bad: a singer, a songwriter, a dancer, an actor, a businessman, a father, a humanitarian, an ailing man, a troubled man, a child abuser. Whatever it is that you thought of MJ, there is no denying the influence he has had on music and millions of people all over the world.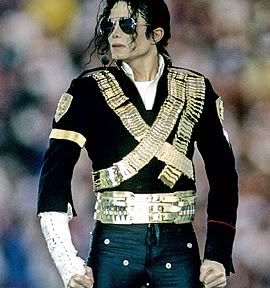 Just like his life, his death has been full of ups and downs. At first there was the uncertainty as the rumors flew and nobody was able to confirm the truth. Then as the news of his death was confirmed there was the overwhelming grief and shock. People all over the world mourned and looked for an outlet for their grief, which they found immediately in his music. Right now outside the Apollo theater in New York (and I'm sure many other places in the world), thousands of fans of Michael Jackson are playing his music out loud and dancing to celebrate his life.
Michael Jackson changed the face of music in many ways. He was the ultimate entertainer and nobody could light up the stage like he did. He was inducted into the Rock and Roll Hall of Fame twice. He has multiple Guinness World Records such as the "Most Successful Entertainer of All Time", 13 Grammy Awards, 13 number one singles in his solo career and the sales of over 750 million albums worldwide. His influences can be seen even today in musicians such as Justin Timberlake, Britney Spears, Usher, Ne-Yo and more.
Michael Jackson transcended race, time, borders and pretty much everything else. And no matter how tumultuous and troubled his person life was, it will never mar the icon he was or the light he brought into people's life. His music is timeless and that is why Michael Jackson will forever live on. Michael Jackson was a true legend and legends like that are immortal, they never die.
We will miss you Michael.
Author's Bio:

Intent.com is a premier wellness site and supportive social network where like-minded individuals can connect and support each others' intentions. Founded by Deepak Chopra's daughter Mallika Chopra, Intent.com aims to be the most trusted and comprehensive wellness destination featuring a supportive community of members, blogs from top wellness experts and curated online content relating to Personal, Social, Global and Spiritual wellness.