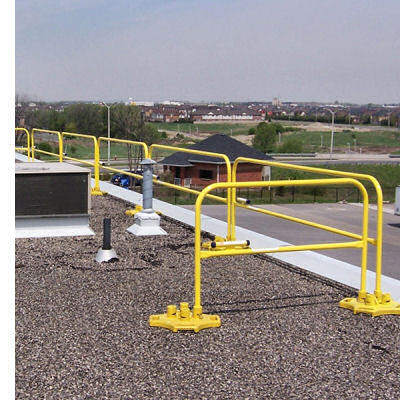 There are few different ways for you to go when dealing with rooftop safety railings. There's plenty to consider when it comes to figuring out what to purchase, but we took the hard work out of the equation for you and narrowed it down to some of the most important things to take into consideration:
OSHA Compliance – This is arguably the most important thing to think about when looking for the perfect removable safety railings for your workplace. Aside from doing their job and keeping your employees safe, the proper removable rooftop guardrail system will keep your organization OSHA compliant – in essence keeping it open for business.
Quality Materials – Safety is obviously something you shouldn't be trying to cut back costs on, and this is no different. Look for a removable railing system that's made from high quality materials, and is certified and inspected by a third party organization.
Style – Nobody is expecting you to throw an eyesore onto the top of your building. After all, it's first impressions that are everything when it comes to new and continued business. Look for a railing system that comes with a sleek powder coating – some may even let you customize the look to match the colors of your business!
Non-Penetrating Safety Rails – A non-penetrating safety rail means you won't have to bore through your rooftop surface to install it. This means you're not compromising the rest of your structural safety for the sake of increasing it somewhere else. You're also going to be cutting down on installation time – a definite plus when it comes to cost and efficiency.
So, What's the Best Bet?
Everyone's situation is always different, and you'll want to analyze your individual organization's needs before making a purchase. Make sure you fully understand what you'll be needing before diving headfirst into spending money.
That being said, a 360 mobile safety railing is among the best choices when it comes to rooftop protection.
Sturdy cast iron bases for the system keep the railings in place, without requiring you to drill into your rooftop. The 360 bases allow for easy installation – you probably won't need more than one or two people to get the job done in a timely manner. Not to mention most 360 mobile safety railing systems double as either a permanent solution at leading edges, skylights and roof hatches, or a temporary solution at construction sites or shipping and receiving areas.
It is clear that when you're thinking about potential rooftop safety measures, removable rooftop safety railings will offer the best, most sustainable solution for your organization. They'll provide an unmatched level of safety for employees – and just as importantly, keep you as a business owner out of the courthouse.
Keeping your organization consistently updated when it comes to OSHA compliance is also among the top benefits of utilizing a removable rooftop guardrail system. Don't cut corners on the safety of your workers and the reputation of your business
Author's Bio:
I'm Professional Digital Marketer