Planning a baby shower and making it fun is a very overwhelming task. It doesn't matter whether you are handling everything on your own or you are getting some help from one of your best friends, there are a couple of things to remember and several others to make sure they are in line.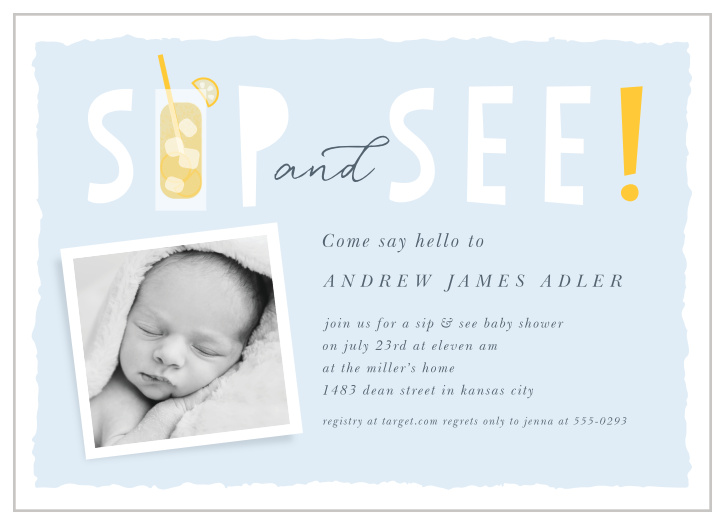 One time it seems like everything is in place and some few moments you realize something is missing. Although you can let your best friends do the other things for you, I would recommend taking the process of arranging baby shower invitation cards on your own.
Why take time to arrange a baby shower?
Baby shower is very fun to the mother to be and her friends. It's also a productive time where the parents feel less overwhelmed and eased the stress. I know you are now wondering how on earth such a ceremony relieves you of stress and anxiety. Well, seeing your friend's visit and getting those gifts from them is heartening and may help you think positive in such a situation.
For a baby shower to be fun and productive, there are few things you shouldn't forget when you are arranging those sip & see invitation cards. In this brief, we are going to offer you a list of explained things that you shouldn't forget at all.
Pick the right size for the composition
This is the first thing that should cross your mind before delving into designing and arranging your baby shower invitations. The cards takes on different dimensions which is determined by the way you want to send them. You may choose 5X7 inches, 7X5 inches, 6X6 inches or 4.25X5.5 inches.
If you are considering sending an online baby shower invitation card, then its very important to try the standard digital invitation sizes. These include the 1500X2100Pixes to 1080X1080 pixels.
Don't forget some charming floral
It's a baby shower invitation card and not a business card. This means that incorporating some little floral goes a long way to make the card beautiful. This should be included in a certain pattern either as the background or in the other parts of the design. The background of the card can be paired with some sans serifs and elegant scripts for a beautiful and an effortless design.
Use simple wordings for a baby shower invitation
I know it's very hard to figure out the best words for your baby shower invitations. However, the words used should be fun to read and also very easy to understand. The card should never include lots of words explaining this and that. Just start by sharing your heartfelt gratitude to be a mom and your deep love to invite that specific person on your baby shower party.
If you don't have enough words to craft that, you can always get some help online. You can easily search for meet the baby invitation cards and follow the handy invitation wording and the design.
Be more dramatic if you know the gender
If you already know the gender of the kid, start by getting that to the recipient's mind. Start by shouting ''it's a baby Boy'' lets celebrate. That can be a good phrase to start your card. It sounds dramatic, fun and at greater heights a good way to send the light.
Animated animals
To capture the attention of other children or to make the card beautiful, you can consider using animated-themed illustrations. It can be good for the backgrounds too. This is the case when you are expecting boys or girls to attend the occasion. It's also a good way of keeping your cards naturally cute.
Use titles
When you are addressing your recipient, please make sure you are using their unique titles. This is basically because a baby shower is a formal event. Don't jump into writing Mary Doe; it should start with Mrs. Mary Doe. When you are addressing a married couple, include their unique marital status. Use Mr. and Mrs. Andrew Doe. For modern methods, you can as well use the Mrs. Andrew and Mary Doe.
Don't forget to address married and unmarried couples differently
For the unmarried couple, there's a unique way you are supposed to address them. If you are sure the couple is unmarried but they live together, use the Mr. Andrew and Ms. Mary Doe. Always use these wordings every time you are addressing different groups of people.
For single people, address the woman as Miss Marry Harry. For the man, you can just use the Mr. title, which is always a good start. If you don't know the real status of a person, then use the Ms. Mary Doe.
Don't forget to use professional titles
For members of the clergy, doctors, politicians and engineers, always use their professional titles. If they are a couple and doctors already, start with the highest title. Dr. Andrew and Mrs. Mary Doe. That is for a married couple but for people living together but unmarried, use the Dr. Andrew and Ms. Mary Doe. If they are a doctor's couple, use the term'' The doctors Doe''. If the two of them have different last names, you can include the two names in full.
Invite children with their family titles
A baby shower can never be complete without children in the picture. If you are considering inviting children, then make sure you are using their family name. You can just write a letter to ''The Doe Family'' where you are inviting the whole family. If you are inviting some members from the family, then consider writing their official names.
Don't forget the house numbers, and apartment names
To make sure the baby shower invitation cards will be delivered to the right individuals, never forget to write the house number and the apartment names. All that should be written in numerical numbers except when the house number is 1. In that case write as ''House number One''.
In the case you are using online platforms, save your design and share after you are done. Make sure its in compatible formats including PDF, PNG, TIFF, or JPG. Make sure all the cards reach the targeted individuals early enough. People need time to prepare and get you gifts.
Author's Bio:
This is Arifur Rahman. Who is a professional SEO Specialist & Blogger. He has been working in this sector since 2015. He loves to share his stories, tips, tricks and teach the online readers