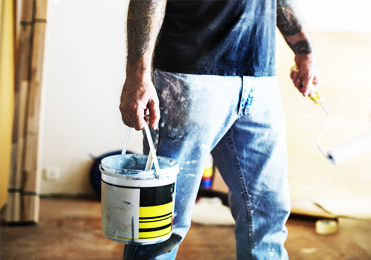 Although others dread at the idea of getting paint jobs done during winter, you can consider it a perfect time to get an unfinished chore, completed. Yes! You don't need to waste another round of cold winter months lounging lazily, without doing a thing. Winter gives you piles of opportunities to tackle the interiors of your home, implying to the fact that you can easily take up an interior painting job during the season. If this thought is making you feel the chill down your spine don't worry because a professional interior painting contractor is there to help you around with some great quality paint works. Here are compelling reasons stating why you must opt for interior painting professionals during winter:
Paint projects cost less during winter
So you had been waiting to enjoy the perks of winter? While your neighbours and friends try to push their house painting jobs till summer rolls around, remember to not go with the flow unless you don't want to part with a huge chunk of money. Spring along with summer, are considered peak seasons for house painting jobs as the demands are high. Hence it's difficult to get competitive quotes for paint jobs. The prices go up during these two seasons. Whereas, winter time allows you to enjoy the perks of saving money as you roll up the quilt on you while professionals take over the job for you. Experts have noted, in general a paint job accomplished during winter months can save the householder a whopping 40% of the money.
The slower the season the better the flexibility
Another strong reason for selecting winter months as an ideal time for calling up Painters in Mosman is because a majority of painting companies offer more flexibility as they try to offer services around busy schedules of customers. Irrespective of whether you are able to plan a day off for a home painting project or are unable to get a leave from office, a reliable painters company will ensure sending professionals who will work in accordance with your existing schedules. If you need the job to be accomplished within a lesser span, a House Painting company in Mosman will send extra manpower to work around your schedule as the season gets slower with less number of contracts to cater to.
Mood boosting
Don't let the winter months, go in vain. Instead think of working on a potential home revamping project by calling up professional painters. These experts will readily take up the job of giving your house a facelift by adding a fresh coat to the interiors or exterior walls of your house. Imagine waking up to the excitement of having your home decked up in fresh new colours. When days turn mundane during winter, a paint job seems like a breather to most home owners. A Residential House Painting project in Mosman will keep you engaged while you will be busy assisting painters in the job, directing them towards giving their best.
Colder and dryer air cures paint faster
For countries where summers are hot and humid, seeking a paint service during the season may not seem like a good idea. Rather you can choose winter as an ideal time for a paint job; the air remains dry and cold during the season allowing the paint to dry up faster.
These are some viable reasons for choosing winter as the main season for a house painting job.
Author's Bio:
The author runs a Painters company in Mosman. In recent times the author has been writing blogs on benefits of hiring professionals during winter months.