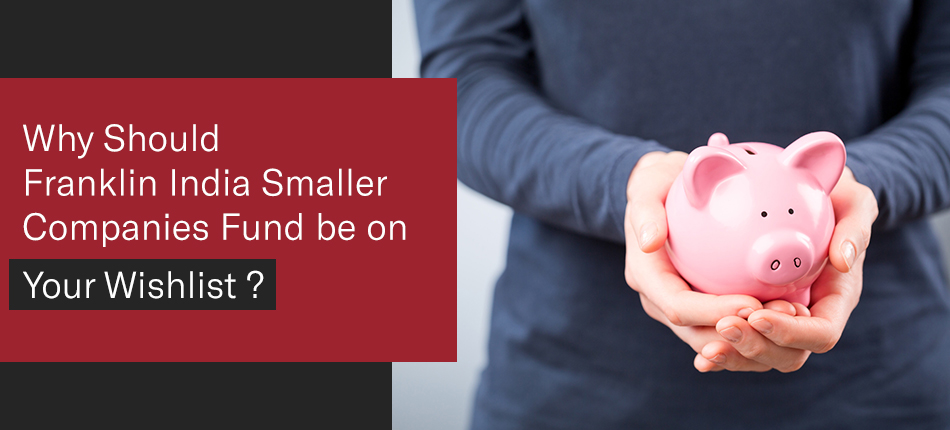 Besides being the largest merchant for spices and outsourcing services, India is often coined as the entrepreneurial country. In the last 10 years, India has seen a surge in the number of startups emerging from its soil. This has led the nation to a whole new direction of progress and prosperity. Solid opportunities are emerging in the field of investing in these budding startups, and one can make enough money to survive one's three generations.
But how do you participate in startup funding?
Well, investing in top funds such as Franklin India Smaller Companies Fund can be your ticket to a whole new world of financial success. This fund has been rated very high by expert investment sites, and is also been considered by many financial gurus to be one of the best schemes present at the moment in India.
Understanding the Basics
Franklin India Smaller Companies Fund – Regular Plan (G) was started way back in 2006. It is an equity-oriented, small cap mutual fund with an objective to identify small, potentially powerful companies that show signs of marvellous growth in future. The fund is an open-ended scheme, and competes against NIFTY Smallcap 250 TRI.
Since its launch, Franklin India Smaller Companies Fund (G) has remained in the good books of investors and market critics due to its impeccable performances over time. Over the years, the fund has acquired a large surplus of assets that were recorded to value ₹7,403 crore on 30th April 2019. This is one of the largest asset pools to be handled by any fund of this class, thus it can be contemplated that there are enough opportunities for this fund to grow in the future and generate wealth.
Coming Over to the Fund Management
The fund management is a critical task and demands dedication, experience and supreme conviction. Having its roots in one of the largest asset management companies in the world, Franklin Mutual Fund, fund management is never overlooked in Franklin India Smaller Companies Fund. The fund managers, Mr. Hari Shyamsundar (B.E. Mechanical & CFA) and Mr. R. Janakiraman (B.E. & PGDM), are both highly experienced and seasoned professionals having an experience over 15 years in the area of fund management. Through their fine sense of judgement and conviction, the fund managers have been able to sail the fund through the tough times smoothly and have allowed it to produce great wealth.
What's Inside the Portfolio?
The portfolio construction is a tricky job, and here the skills of the fund managers are put to their toughest tests. Though the portfolio of Franklin India Smaller Companies Fund (Growth) follows a pure equity investment style (95.5%) and concentrates a lot on small sized stocks, there is an assortment of other stocks present in the portfolio which add diversification. With 60.67% investment in small caps, the fund tends to remain overweight on these stocks. Moreover, other stocks such as giant & large cap (16.52%), and midcaps (22.81%) have been given sufficient weightage to add the correct balance of aggression and defence in the portfolio.
Which Industries form Part of the Portfolio?
In order to create a powerful and comprehensive portfolio, the fund managers of Franklin India Smaller Companies Fund (G) have handpicked some of the most progressive stocks from thriving industries. The following table depicts the industries involved, besides narrating the amount of assets stuffed in each of these industries: -
A Glimpse of the Past Performance
In order to be certain that you have selected the right funds for your portfolio, you ought to check the fund's past performance. It is of supreme importance to note whether the fund has been consistent in its performance, or has been violently reacting to the market movements.
Thankfully, on the basis of the past performance records of Franklin India Smaller Companies Fund – Regular Plan (G), it seems that the fund has been performing quite stably. Since inception the fund produced 13.32% returns on an average, which is a commendable score in this investment segment.
So if you're backpacker with lots of goals inside, then it's time to accomplish them all by investing in Franklin India Smaller Companies Fund.
Author's Bio:
Dishika Baheti loves to read, write, and talk about Economics and its surroundings. For years, she has been researching on the mutual fund market and has published several articles on MySIPonline. He also runs weekly workshops, teaching basic investment techniques to potential investors.