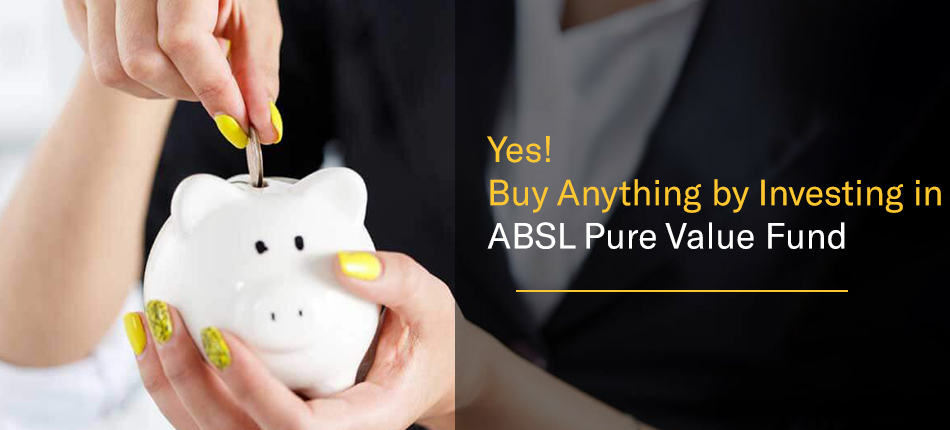 Under the best fund house of 2018, ABSL Mutual Fund, Aditya Birla Sun Life Pure Value Fund was launched on 27th March 2008. The investment objective of the scheme is to invest significantly in equity and related instruments by focusing on value investment strategy for long-term capital appreciation. Managed by the two fund managers, Mr Mahesh Patil and Mr Milind Bafna since Jan 2014, the scheme purely concentrates on stocks undervalued by the market and have high chances to come back to the track of good performance record. Therefore, investors get benefits from price improvement over a long-term horizon. As the instruments chosen in the portfolio are meant for the long-term hold to get the required advantage, you should keep on investing for a time horizon of 5-years and more to utilise the true value from the investment.
Since inception, this scheme has produced around 15.05% annualised returns (as on 15th Feb 2019) and scaled up the invested money of investors. Even during a long-term horizon, ABSL Pure Value Fund growth has helped the investors in getting higher returns for their investment goals. Here are points suggesting that by making an investment plan in this scheme, you can accomplish your financial goals.
Planning for Your Dream Car?
Every dream has boundaries based on how much you can afford, but with Aditya Birla SL Pure Value Fund, you can cross the boundaries by systematically investing for your dream car. First of all, list down the monthly expenses and then cut down some of them which can be avoided. The budgeting will help you save the maximum for your dream car monthly and strategically you can reduce the distance between you and your dream car. Based on the past performance, this scheme has produced 19.60%, 15.96%, and 20.03% annualised returns in 5, 7 and 10-years. Taking it as a reference, you can plan for the required amount for your dream car using SIP or lumpsum calculator.
Want a Dream Home?
Similarly, if you are planning for a dream home, you have to calculate the future cost of it. After deciding the amount, you can calculate the time horizon and invest the amount based on the annualised rate of returns. While calculating the estimated amount, you have to include the inflation rate as well to make it well-planned.
Wish for Big Corpus After Retirement?
Some investors mainly from business or private job background wish to plan for a big corpus after their retirement. To help such investors, ABSL Pure Value Fund can be a good choice if they have a long-term horizon of 15-years and more. As this scheme has around 96.32% allocation in equity instruments, you are also required to match your risk-appetite with the scheme.
Planning for Your Child's Marriage?
By investing in ABSL Pure Value Fund growth, you can also plan for your child's marriage or similar goals over a long-term horizon. As this scheme has significant exposure to mid and small-cap companies, it has the power to generate exceptional returns over a time horizon by taking advantage of the value stocks.
Want to Plan for a Trip?
Most of Indians avoid trips due to future responsibilities and in lack of sufficient corpus. Meanwhile, they make a plan and cancel it due to monetary issues. Now, with ABSL Pure Value Fund G, they are not required to avoid the trip as they can make a systematic plan to accumulate sufficient amount for it as well. Along with this scheme, they can also add some other schemes for short-term or other needs to make it a well-managed investment.
So, with Aditya Birla Sun Life Pure Value Fund investors can easily get the advantage of investing and accomplish their future needs by planning it systematically without disturbing their current monthly expenses. Although, they are required to start it early so that their invested money get sufficient time to grow and utilise the compounding rate of returns.
Author's Bio:
The author is a competent fund analyst at MySIPonline with more than 5-years of experience in the mutual fund industry.