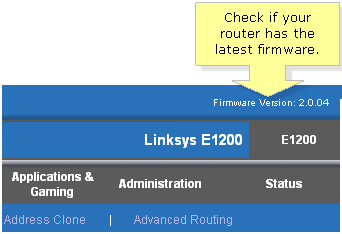 If you are planning to update Linksys E1200 Firmware, then, first of all, ensure you own a compatible WiFi router; the latest versions are suitable only for E1200 v2.2 and E1200 v2.0 wireless products. It is recommended do not even try to install the latest version of Linksys firmware on other models, as they can cause numerous device malfunctions.
Additionally, after downloading the correct .bin file for your unit, it is advised that you establish a secure wired connection between the router and the computer or laptop using an Ethernet cable (WiFi technology may disconnect).
This article explains how to upgrade Linksys E1200 Firmware. Let us begin.
Get your Router Version and Model Number
On the back or bottom panel of your wireless router, you can see the model number and version number both. If you fail to see, then don't worry, model and the version number along with the default IP address of your Linksys device can be easily found in Linksys e1200 manual. After that, plug it into a wall socket.
Download Latest Linksys Firmware on your wireless router
On your computer or laptop visit linksys.com.
Click on Support.
Then, enter your Linksys WiFi router model number.
Click on Get Downloads option.
After that, click on the version number for your wireless router and then, click on the download link situated under firmware section.
Take a Backup of Linksys smart WiFi setup
Prior to upgrading Linksys E1200 Firmware, it is highly recommended to take a backup of the current Linksys smart WiFi setup (wireless configuration). After that, log into your device's administration panel using your valid and correct login credentials (username and password).
Afterward, from the web interface, choose the following options one by one.
Go to Administration.
Config Management.
Backup.
Config.bin. It is recommended to save this file to a secure location of your computer or laptop.
Upgrade the Linksys router firmware
Now, from the web interface, go to "Administration" after that, "Firmware Upgrade" and then, select the latest file downloaded file. Once done, click on "Upgrade" (without quotes).
As soon as the upgrade process starts, please do not click on any other link. Just wait for a few minutes for the upgrade process to complete successfully.
Once the Linksys E1200 Firmware process is completed successfully, verify your new firmware version to ensure that the upgrade is completed successfully.
During the installation process, a progress bar will be displayed. Be certain that you don't disconnect the power/Ethernet cable/wire, reboot your router/computer/laptop, or interrupt the Linksys Firmware process in between. Upon completion of the firmware upgrade process, you will be prompted with a message.
Once the latest version of firmware has been applied successfully, your router will restart automatically. We recommend that you press and hold the "Reset" button given on your Linksys device for 10-15 seconds, unplug the power cord for another 20 seconds, and then plug it back again.
After that, access the Linksys smart WiFi setup page through the default IP address of your Linksys router i.e. 192.168.1.1 to set up your device and extend the existing internet range.
If you need more assistance in upgrading Linksys router firmware or setting it up simply get in touch our executives by writing to us at support@extenderlinksyscom.live.
Author's Bio:
I'm a writer and illustrator. My previous work includes roles in digital journalism and content writer.