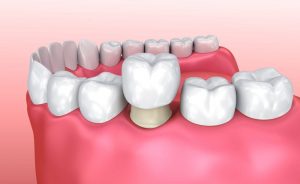 What Is A Dental Crown And How Does It Work?
Has your dentist recommended dental crowns? And do you know what is involved in the procedure and how they operate? Here is all the information you need to help you make an informed decision.
Crown restorations are common dental procedures that many dentists across Australia perform. However, many people do not understand the reason for these dental procedures. Some are even intimidated or scared of having to undergo a dental crown procedure. However, if you have severe dental issues and missing teeth dental implants are the perfect solution.
This procedure is logical and straightforward
Dental crowns contribute to improving the way your teeth function. This post offers information on what dental crowns are and the way that they work. Here are the topics to follow:
What Is A Dental Crown?
A dental crown is a restoration that assists with restoring damaged teeth to their original shape and size. Crowns are installed over damaged or cracked teeth.
Dental crowns replace the exterior part of natural teeth, but in some cases can extend further onto the root of the tooth.
Crowns fully encase or enclose the exterior part of your natural tooth if restored correctly. Crowns are custom-made which means they will fit over the tooth perfectly.
Dental crowns are made from either ceramics, porcelain, porcelain-and-metal, resin, and gold.
When Will You Need A Dental Crown?
Dental crowns help to protect a weak tooth or teeth. They are also commonly used to repair or restore damaged, broken, or cracked teeth. Dental crowns also restore the shape, size, functionality, alignment, and appearance of damaged teeth.
The crown will become the only part of the tooth that is visible once cemented and secured into place. A dental crown is created to resemble your natural tooth. In this way, they won't look off or stand out when you compare them to the rest of the teeth around your mouth.
How Do Dental Crowns Work?
Dental crowns are placed over natural teeth. They go over a cracked or damaged tooth to provide protection and stability to the tooth that remains.
Once your crown is secured into place, it holds your tooth together, which stops it from breaking or cracking apart. Your tooth appearance, alignment, and your bite will improve once the dental crown is in place. Crowns are also made from resilient and strong materials.
These materials are made to withstand the pressure of biting down and chewing similar to how your natural teeth work. Crowns also cover any visible parts of your natural tooth.
Once a cosmetic dentist has cemented a crown over your cracked or damaged tooth, it works with your natural tooth.
How Are Dental Crowns Installed?
Cosmetic dentists apply anesthetic to the gum tissue around the tooth and into your damaged tooth. A special dental drill is then used for removing the damaged and cracked part of your natural tooth.
The tooth is also drilled to make enough space to accommodate your crown. If there isn't enough tooth left to adequately support your crown, dentists often add a "crown buildup" that creates the foundation that you need for the crown.
During your first appointment, a digital scanner is used to create an "impression" of your tooth. This is then sent to a laboratory to make your dental crown.
It might take a week or two to create the crown. While you wait for the new crown, your dentist will give you a temporary dental crown.
At your next appointment, your dentist will first remove your temporary crown. A special dental cement is then used to install the new dental crown on top of your natural tooth, and then the job is done!
Author's Bio:
I am an author of selfgrowth