AARGO EV SMART AC 7.4 kW Charger
The Terra AC wallbox provides tailored, intelligent and networked charging solutions for any business, home or location.
AC 7.4 kW Charger
1. Ethernet, WiFi and Bluetooth are in every charger.4G with 3G fallback is available insome variants.
2. Authentication can be done with a smartphone, via the BT connection, with an RFID card or tag.
3. The charger will switch off when it detects that the car is taking more current than is allowed.
4. Integrated protections, including DC ground fault and overvoltage, protects both user and car.
AARGO EV SMART DC 24 kW Charger
The Terra DC wallbox, Developed with leading electric vehicle manufacturers, trusted by energy suppliers and governments, the Terra DC wallbox makes fast charging safe, smart and future-compatible. Backed by 130 years of innovation and a decade in e-mobility, the DC wallbox supports the continuous advance of electric vehicles.
DC 24 kW Charger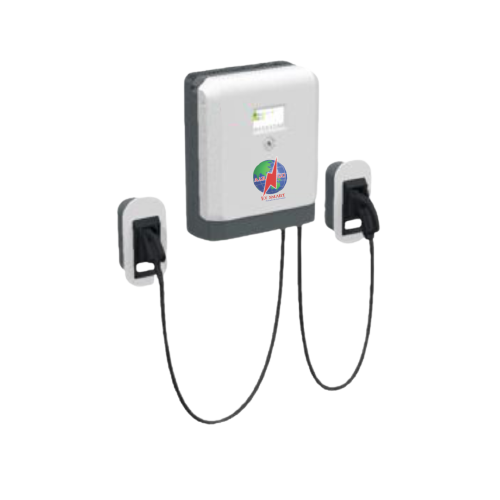 1. Residential Multi-tenant homes, residential communities.
2. Office Small and large offices, business parks and complexes.
3. Commercial Hotels & hospitality sports institutions, shopping centers, commercial fleets, public or private campus, parking structures, car dealerships, race tracks.
4. Public assets Bus depots, utility, sensitive grid applications.
AARGO EV SMART DC 50 kW Charger.
Terra 54 multi-standard DC charging station
DC 50 kW Charger

1. 50 kWDC fast charger supporting CCS, CHAdeMO and Type 2 AC charging.
2. Designed to deliver full output power continuously, and reliably over a lifetime.
3. IEC 61000 EMC Class B certified for industrial and residential areas (including petrol stations, retail outlets, offices, etc.)
4. Future proof connection via open industry standards, including remote uptime monitoring and assistance, updates and upgrades.
5. Daylight readable touch screen display.
6. Graphic visualization of charging progress.
7. RFID authorization.
8. Robust all-weather stainless steel enclosure
9. Quick and easy installation.
If anyone wants to install an electric vehicle charging station then contact us << Click Here
Author's Bio:
AARGO EV SMART, a new division launched by AAR POWER SOLUTION envisions to build a robust ecosystem of electrical mobility – " Electrical Vehicles Charging Stations – EVCS".