Soundwave art is an audio-based innovative artcreation tool thatcan transform soundinto cool-looking soundwaves by extracting its soundwave. Scientifically, sound waves are waves made from the vibrations of a sound. It is the visual correspondence of an auditory, represented with an artistically drawn soundwave.Soundwave art not only transforms sound from audio or video into soundwavebut also lets users to playback the sound simply scanning a QR Code.
You can turn any sound into cool looking soundwaves—including your wedding dance song, I love you words, last voicemail of a beloved one, baby's heartbeats, wedding vows, or anything in-between—into an artistic piece of artwork that can be cherished forever on your wall thanks to the artificial intelligence based tool of soundwavepic.com.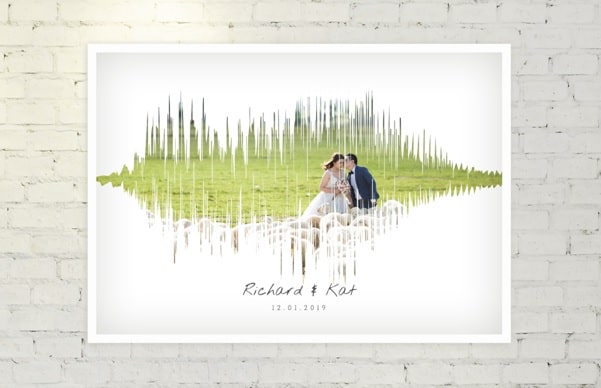 A perfect customized gift for beloved ones
If you are looking for a gift for someone who has everything, then you are in the right place because soundwave art is completely unique and will make it for a perfect gift. You can turn their favorite song into cool looking a soundwave and they will adore that piece. I'm sure they have listened to their favorite song hundreds of times, but I don't think they have ever seen how their favorite song looks like.
Any occasion
One of the best things about it is they are customizable, and you can customize colors, style, text, the thickness of bars, etc. No matter if it is for an anniversary, baby shower or valentine's day, it is always a great fit.
They'll treasure forever
People love custom gifts. Even the most expensive gifts are not remembered after some time, but personalized gifts like this will be remembered forever
Tech-Savvy
This is not only personalized but also a tech-savvy gift because it has a great add-on, QR Codes, to listen to the soundwave and this makes it even more special because the person you're gifting will be able to listen to your voice, or the song whenever they want.
How to create it?
Upload/Record: You can either upload your audio/video or record your voice with the online tool.
Color: You can choose a pre-defined color palette or create your custom palette. Also, there are two coloring options available. Your color palette can be applied gradient or mixed into the soundwave.
Form: There are currently three options to choose: Bars, linear or radial. Explore them by giving a try to each one and choose the best for your liking.
QR: You can either have a built-in QR code on your artwork or have a QR code on a separate card which will direct you to listen to your soundwave on a webpage. You can also generate a password to access the QR page.
Print Option: Once created, it can be downloaded instantly or ordered for a quality print option. The choice is yours to make!